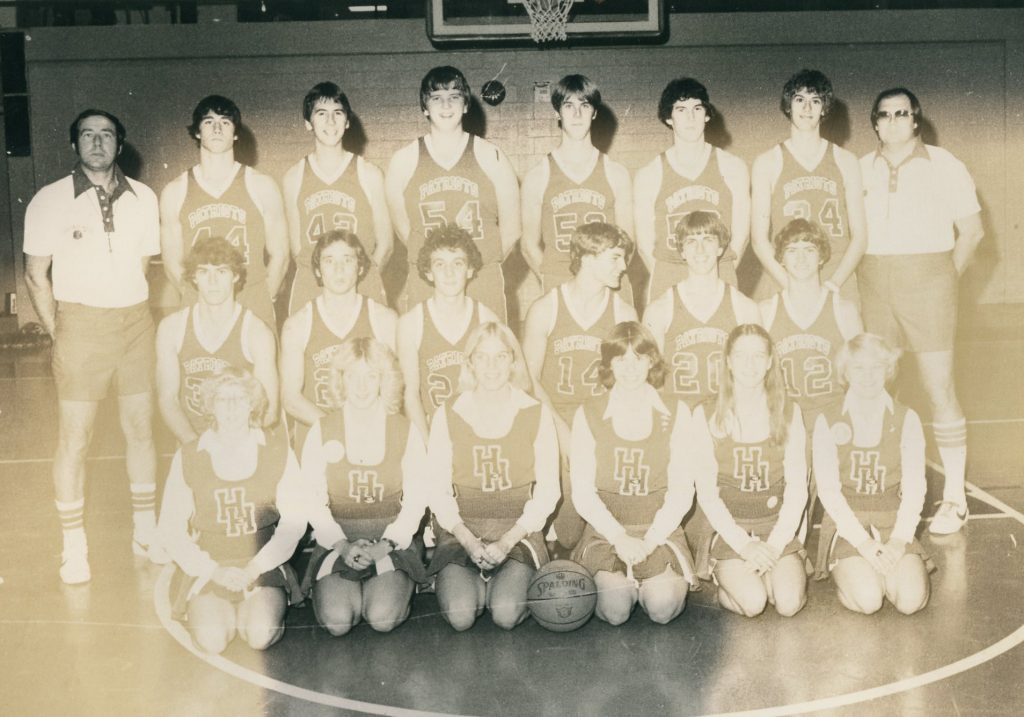 Coach Dale Hein and his Heritage Hills Patriots will open their 1979-80 basketball campaign at home Saturday night when they host the Wood Memorial Trojans of Oakland City.
Last year, the Trojans suffered a 54-35 loss to the Pats on their own home grounds, and went on to experience on of their worst seasons (2-19) under veteran coach Charlie Brauser. His big point getters, Higginson, Nelson and Coleman, went the graduation route, but the Trojans have some good coming back. Todd Tooley is 6-6- junior, John Plassmeyer 6-3 1/2 junior, 6-3 senior Danny Buck, etc. Buck and Darren Nossett are the only seniors on this season's roster. As of this writing they have been untested this season.
Heritage Hills will open under veteran coach, Dale Hein, with a fist full of credentials of their own!
Half of the Wahl combo (6-0 Brian Wahl) is returning from last season's varsity, along with 6-3 Rick Tullis, 6-1 Randy Neighbors and 5-10 Doug Collins as seniors; 6-2 Bruce King and 6-0 Chris Sigler as juniors.
Coming from last season's JV quintette are 6-05 Jeff Graman, 6-3 Chris Cannon, 6-3 Mark Duss, 6-3 Mark Nighswonger, 6-0 Todd Smith, 5-10 Jed Smith, and Doug Teaford 5-11 and all juniors. If the Pats can get around the South Spencer Rebels and big Perry, they may sweep the PAC basketball compeition as well as they did the football season! Things are looking good at this point for the Heritage Hills Patriots.
Article From Nov. 30, 1979 following Contest against wood memorial
Patriots Zoom By Wood In PAC Battle
Unlike the fabled "Tojan Horse" the Wood Memorial Trojans were themselves caught unprepared for the Heritage Hills Patriots attack last Saturday night, and were crushed in a PAX encounter 80-32
New Head Coach Dale Hein, and the Patriots started on a winning note, putting points on the board in rapid succession! Coming from all angles, the points were coming from Brian Wahl 24, Chris Sigler 15, Rick Tullis and Bruce King 8 each, Randy Neighbors 7, etc. Todd Tooley tossed in eight for the losers.
This win could be a castle one to the Pats. During the action, Rick Tullis broke his wrist and coach hein was depending heavily on the 6-3 senior to help out against the big 6-10 Rebel of South Spencer tonight. Rick will probably be out of action until after the first of next year.
The Pats also scorched the nets, hitting better than 58 percent from the field (35-60) and 10 of 16 at the stripe. Wood Memorial was stunned, connecting with only one-third of their field goals (15-50) and 2 of 4 at the stripe.
In the preliminary contest the Pats enjoyed equal success, bringing home a 52-25 victory. Saturday night was not a happy one for the Trojans. Mark Nighswonger dropped in 11 markers in the JV victory romp. The JV was in front at all stops 14-4, 23-12, 35-18 and 52-25.