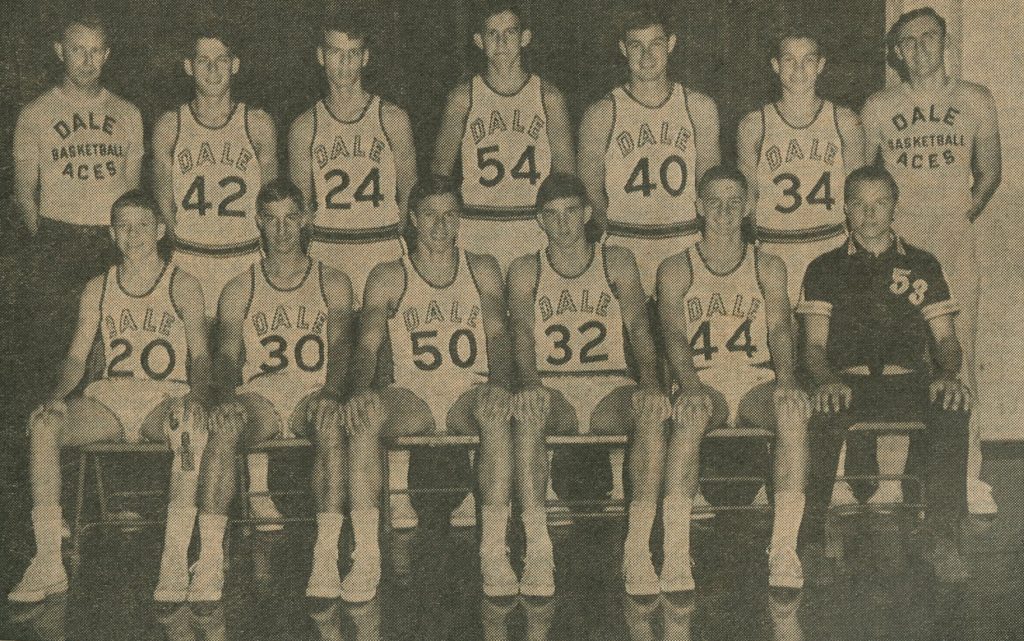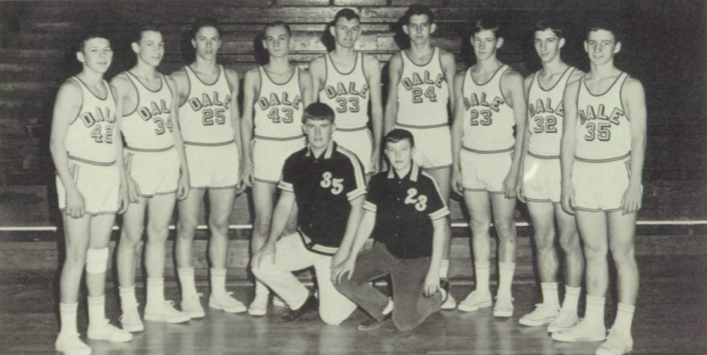 Dale's Golden Aces will be joined by Ferdinand's crusaders and Otwell Miller's in opening their 1965-66 basketball Season Friday. The Crusaders journey to Dubois for a battle with the Jeeps while Dale visits Holland's dangerous Dutchmen and Otwell hosts Stendal.
Jim Cawood's Golden aces of Dale will open their first season as part of the North Spencer School Corporation when they sweep into the Holland Dutchmen's stonghold tonight to test the ability of the Dutchmen's new coach George "Woodie" Neal, and the ability of the towering hosts from Dubois County. Holland has a pair of victories neatly tucked away already and will not be bothered with the opening night jitters, which never seem to bother the Aces much after the first couple minutes.
Dale will be missing the hardest- working center of southern Indiana with the graduation of steady Steve Walker who set a new floor record last year with 43 markers against Owensville. They will also miss the scoring punch of Ray Springston. Returning however, is the floor general Roger Guth, a 6 ft senior; gunner Bill Painter a 6-1 senior; David Griepenstoh 6-1 1/2, J.D. Springston 6-0 and Randy Flamion who are returning senior lettermen. Dale's juniors are giving the Golden Aces a ling-absent size advantage. Gene Simpson is 6-3 1/2, Doug Sanders is 6-2. Another pair of juniors are Maynard Jackson 6-0 and Mac Jones 5-11. 5-10 senior Vernon Dilger will be seeing his first varsity action this season.
Sophomores also show promise. Ron Estes 5-11 1/2, David Kress 6-1, Van Martin 5-11 1/2 are the tallest of the crew, followed by Steve Meyer 5-7, Wayne Stood 5-8 1/2, Tom Webb 5-8 1/2, Bill Weber 5-9 1/2, Larry Wetzel 5-8 1/2 and Russel Winkler 5-8. Most of these will probably see most action on the reserve team and fed into the varsity as coach Cawood needs them.
The 1965-66 Golden Aces will be guarding a season record of 18-5. Two of the Aces losses were to Tell City 56-55 and Huntingburg in a double overtime thriller 51-47. They are also the defending PAC champs!
Holland Dutchmen may have been fed some of the ingredients that shot big "Bumper" Tormohlen into the sky some years ago. Steve Stamp has grown from 6-1 last season to 6-4 this year! Jerry Bueltel just grew an inch and is now 6-5 and 205 pounds of beef to move around the pivot spot. Stamp and Wibbler are seniors, Bueltel is a junior. Rich Kamman at 5-7, Fred Schmett at 5-11, Celet Mehringer 5-10 1/2 are all seniors. Jon Meyer 5-11, Rick Barnett 5-11 1/2 , Phil Luebbehusen 5-8, and Larry Loeh 5-10 are juniors. Sophomores are Gerald Hilsmeyer 6-2, Kenny Kippenbrock 5-3, Gary Schwinghammer 5-10. Steve Henke 5-11 and Phil Meyer 5-10 are freshies on the Dutchmen squad.
Holland's top gunner last season was Don Sibrel who racked up 329 points. He was counted on for this season again, but did not return to school this fall. The Dutchmen have registered wins over Mackey and Ireland in their match toward the sectionals. Last season the Aces dumped the Dutchmen 65-52.
---
Height, experience and bench strength appear to be abundant commodities at the disposal of Coach Jim Wahl as he prepares his St. Ferdinand Crusaders for the School's fifteen basketball season opener at Dubois tonight.