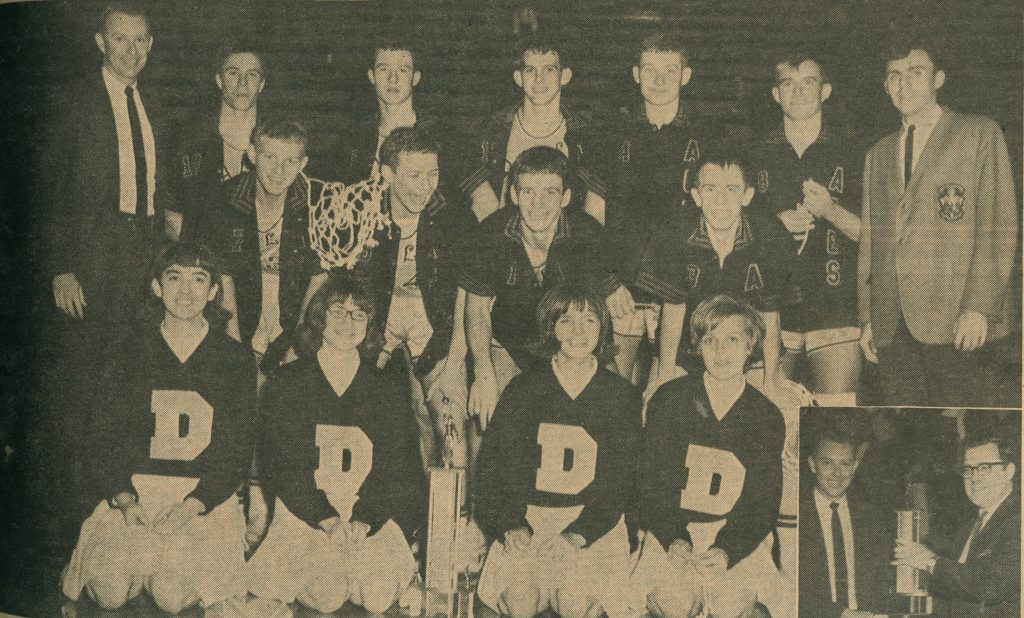 Dale Golden Aces were the successful bidders for the Boonville Invitational Tournament Championship Friday night by downing Princeton's Tigers on Thursday 49-48 in an over-time battle and then took Castle's Knights for the second time this season 77-58 for the title match Friday.
Dale did not enter the tourney with an outstanding record, but it was by far the best record in the tourney. Princeton and Castle were both winless this season and Boonville had 2-5 season. When the dust had settled Dale had the championship all sewed up and the two winless ones now had a win each to their credit. Boonville is the only team that did not register to win.
On Thrusday evening it was Castle's big night of the season when they took their first win in nine beginnings by dumping Boonville's Pioneers 52-49 in the lid-lifter. Castles Dave Espenlaub hit two field goals with 45 and 31 seconds remaining to give the Knight's their win. Dave's second shot was a wide-open snow shot that caught Boonville napping on a full-court press. Tom Lant for the Knights was high with 14. Besting for Boonville as Randy Silke with 25.
Dale needed an extra period to accomplish their win over the Princeton Tigers in the Thursday nightcap. Ron Estes went high in the air with a 15ft. jumper with 42 seconds remaining in or with 42 seconds remaining in the overtime to win the game for his mates. Princeton's Dan Freeman had knotted the game at 44-44 with about 1 1/4 minutes remaining but Dale could not sue the time to their advantage and pushed the game into an overmatched scoring paces for the Aces with 11 each.
In the consolation game Friday night, Boonville again was the Princeton Tigers managed their first win of the season with a decisive win over the Pioneers 70-57. This win was accomplished by a 36 point effort of Princeton's Rich Pritchett. Silke for the losers scored 18 as their best effort of the game.
In the championship action Dale took no chances with Castle as they screeched to an early lead and held that lead throughout the match. Castle pulled to within 13 late in the third period, but could get no closer to the victory-minded Aces who margin. Dave Espenlaub was tops for the Knights with 17 markers, For the winning Aces it was Ron Estes for 19, Gene Simpson with 17 and Wayne Stroud with 16.
---
Dale vs Princeton Box Scores
Dale (49) FG FT PF
Wetzel…………………………………… 3 5 2
Estes……………………………………… 2 5 2
Simpson ………………………………. 1 0 1
Sanders ……………………………….. 3 0 3
Weber ………………………………….. 4 2 1
Totals ………………………………….. 17 15 13
Princeton (48) FG FT PF
Smith …………………………………… 1 0 0
Robb ……………………………………. 4 3 5
Collins …………………………………. 1 0 2
Blair ……………………………………. 2 7 5
Loreigce ……………………………… 0 0 4
Peyton ………………………………… 6 0 1
Pritchett …………………………….. 6 2 4
Ellis ……………………………………. 1 0 0
Freeman ……………………………. 3 0 1
Totals ……………………………. 18 12 22
Dale …………….. 11 13 12 8 5 –49
Princeton…….. 9 9 14 12 4 –48
Officials: Mulot, Chessmen
---
Dale vs Castle Box Scores
Dale (77) FG FT PF
Wetzel…………………………………… 0 6 4
Estes……………………………………… 6 7 2
Simpson ………………………………. 6 5 2
Sanders ……………………………….. 2 3 0
Weber ………………………………….. 3 4 1
Meyer ………………………………….. 1 0 2
Totals ………………………………….. 17 15 13
Castle (58) FG FT PF
Gales ……………………………………. 1 2 0
Martin …………………………………. 6 2 5
Sims …………………………………….. 1 0 0
Fischer ………………………………… 1 3 5
Brumley ……………………………… 1 0 3
Espenlaub ………………………….. 8 1 2
Higman ……………………………… 1 0 0
Cabbage …………………………….. 1 0 3
Ransom …………………………….. 1 0 0
Laux ………………………………….. 1 1 4
Kirkland ……………………………. 0 0 1
Totals ……………………………. 24 10 24
Castle …………….. 14 9 19 16 –58
Dale ………………. 20 15 20 22 –77
Officials: DeBroote, Redman