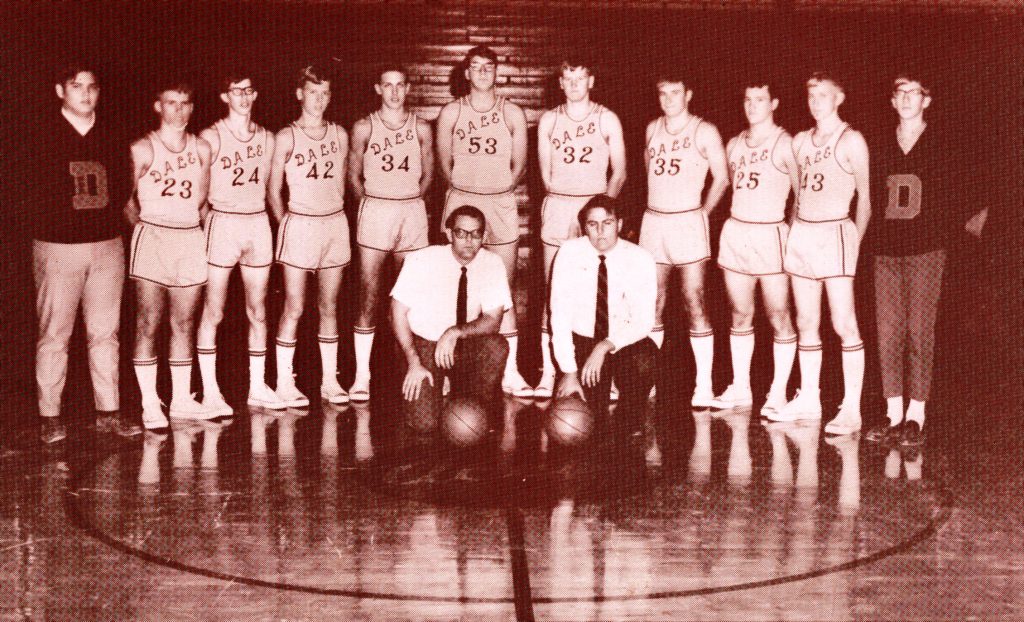 Friday night, the Dale Golden Aces will open their 1969-70 Basketball season at home when they host the Castle Knights.
Coach Larry Erwin lost his pair of snappy guards, David Ransom and Lin Fischer through graduation route. They were 3-year veterans an accounted for much of the Castle strength. Returning is their rangy senior center, Terry Lindenschmidt 6-4, and stepping into varsity action is another 6-4 lad, Chris Reinbrecht, a junior, who did very little scoring last season, but probably will add to the board strength, if nothing else. Also on the roster are seniors, Steve Newcom 5-8, Kenny White 5-11, Tim Katter 5-10, George Smith 6-1; and juniors, Jeff Wallace 5-7, Mark Last 5-9, Don King 5-9, Brian Slade 5-9, Richard Hurt 5-8 and a very familiar name around Dale… Kaiser, (Gregg), who is 6-2. They finished last season with a 7-13 record.
Dales Golden Aces should be stronger this season, with returning starters. Nick Hart, Rick Graman, Rick Rosbottom and Ken Dauby; plus letterman Bob Hagedorn, and David Walker.
Rick Graman 6-3 and Nick Hart 6-2 provide the size factor for Dale. They are both seniors and seasoned veterans. Ken Dauby a 5-7 senior and Rick Rosbottom 5-9 junior will return at guard. Others who may see action this season are seniors David Walker 5-10 and Alan Spayd 5-9; juniors, Bob Hagedorn 5-10, Wayne Hobbs 5-8 and sophomores Rick Hufnagel 5-11 and Jay Guth 5-10.
Coach Bernie Burk will be heading the Aces for the first time this season and brings with him a successful coaching career. Things look bright for the Aces this season, and if facts on paper mean anything, they should be a formidable foe.
Game times are 6:30 and 8 p.m. CST