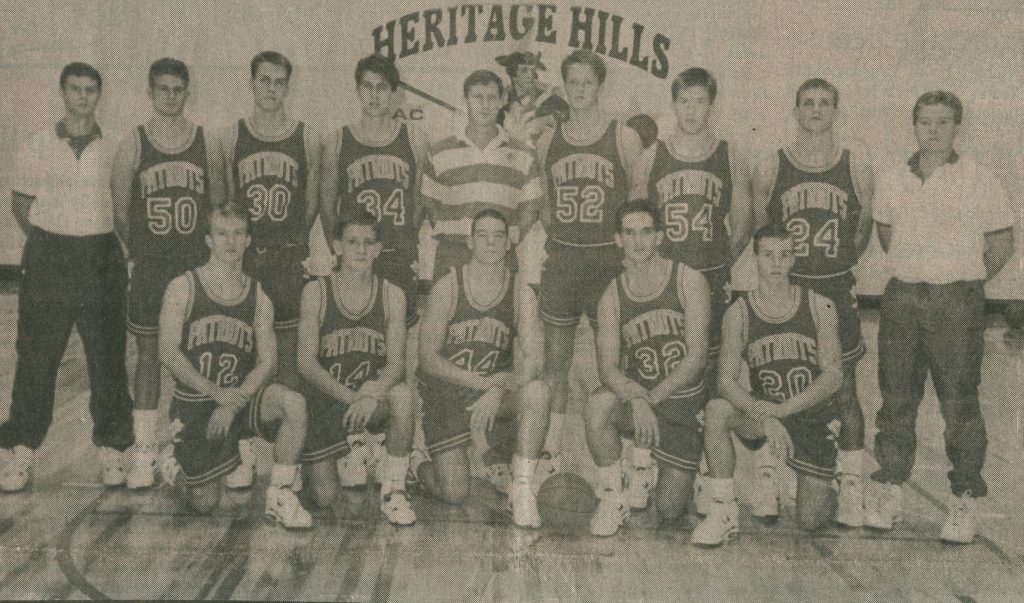 By Jill Grundhoefer
Heritage Hills boys will again tangle with the Jasper Wildcats, but this time it will be on the basketball court.
The Patriots face Jasper in the second game of the Southridge Holiday Tourney on Friday, Nov. 26. Tip-off is scheduled for 7:30 p.m. Northeast Dubois and Southridge matchup in the opening game at 6 p.m. The winners and losers of each game then face each other on Saturday night.
Head Coach Steve Merkel stated that right now his team is way behind the other schools in the tourney because of the success of our football team. The football players have only been practicing a week.
Eleven players will dress for the varsity which include four seniors, five juniors and two sophomores.
"I think this is the best ball handling team I've had. I have three or four guys who can handle the ball against pressure. If we have close games this year, maybe the difference will be in the ball handlers; and I hope they will make better decisions down the stretch," Merkel stated.
Ryan Burress and Nathan School are two starters back from last year's squad. The Patriots lost the other three starters to graduation: Ben Lambeck who was the Patriots leading scorer averaging 17 points per game; Neal Kamuf, who averaged 12 points per game; Adam Steckler, who was 6'4″ and helped out in the middle.
Merkel has not set his lineup yet, but based upon last year's team he expects both Burress and Schorr to start. "Brian Murray who has been here since practice began looks really good. Brad Nix has has some good practices Steve Poehlein looks good around the paint and Jon Jochim is starting to come around from football."
Seth Cissna is the tallest Patriot at 6'5″ 192. Steve Poehlein and Josh Winkler measure in at 6'3″ and Brad Nix 6'2″. Nix and Phehlein and Missna are all above 190.
"Seth has put time in the weight room, and he has picked up strength, and it shows in his aggressiveness in practice. I think he will a good contribution to the team," Merkel stated.
The Patriot main ball handlers will be Burress, Murray and Schorr. Peter Jochim, Kyle Klem and Aaron Hill are expected to come off the bench to help out.
"I expect out post offense to be better this year. We have one or two guys who can score around the basket," Merkel stated.
Merkel is entering his fourth year as head coach of the Patriots. In his first season Heritage Hills won four games in the second six games and third nine games. He hopes the upward spiral will continue. "If I can get some help from my assistant coaches maybe we can do even better this year," Merkel jokes.
In the PAC competition, South Spencer is head about the rest of the conference, according to Merkel. "there are not any slouches in the PAC, I think the rest of us will be fighting for positions after South Spencer."
The team will be holding a scrimmage this Saturday along with the freshman and JV teams at 12 p.m. at the high school The public is invited to attend.
"I think we will be pretty aggressive team. They are all competitors. We have a little more size in the paint this year and beef to plug up the middle. They are fairly aggressive in practice, nut you never know until you get another team out there," Merkel stated.