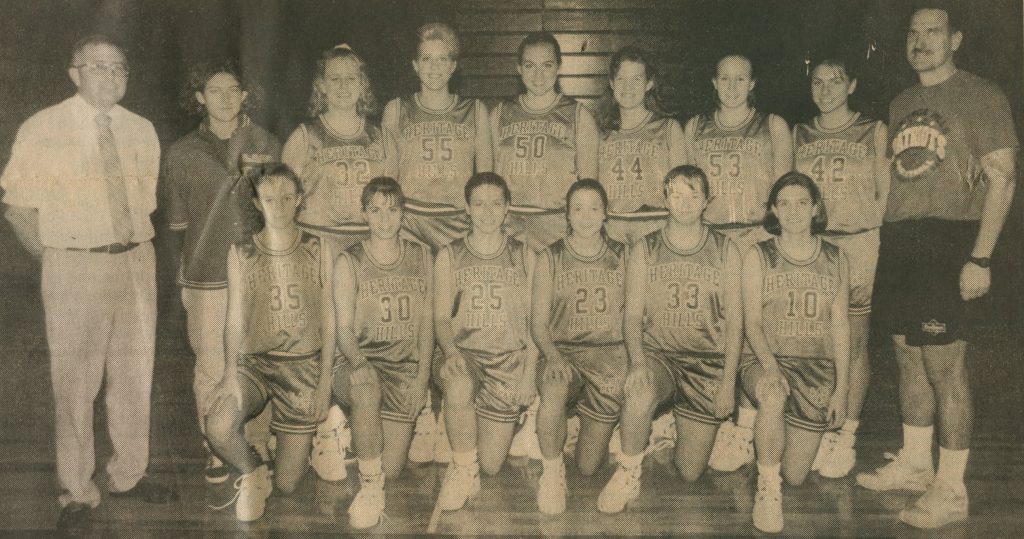 By Brian Bohne
The. Heritage Hills Lady Patriots got their second wind of the young season Thursday when they held off Evansville Central 55-49.
The Patriots jumped on top early behind the three point shooting of Kristy Mulzer before Central made it interesting in the third quarter. Coach Stan Jochim commented on that run. "We built a 12 point lead in the second quarter. Central rallied outscored us 18-9 in the third quarter but three was as close as they got."
With the score 36-33, the Patriots Mulzer and Sara Steckler went to work. Jochim said, "We hit some clutch baskets in that fourth quarter." Mulzer tossed in nine points, while Steckler threw in six (in the fourth).
The Lady Pats also did the job on the glass, especially Steckler and Janelle Springston. "We had a good night on the boards," said Jochim. Steckler had 11 rebounds and Springston finished with 10.
Kristy Mulzer led the scoring attack pumping in 22 points off the bench. Steckler chipped in 12.
Evansville Central also put two players in double figures led by Emilie Hester's 16 points. Jennifer Thomason added 14.
The JV Patriots used a palace attack to down the Evansville Central 35-15. The young Pats led at every stop including outscoring the Bears in the second half 19-6. Jessica McCallister led Heritage Hills with seven. Sara Scott added six.
The Lady Pats will travel to Lynnville to battle the Tecumseh Braves on Dec. 1 beginning at 6 p.m.
Heritage Hills Box Score
………………………………..fg fga ft fta pf tp
j. Uppencamp …………0 0 0 0 0 0
M. Lawson ………………0 0 0 0 3 0
K. Hess …………………….1 4 0 3 4 2
C. Johnson ……………… 3 6 0 0 2 7
K. Mulzer ………………..9 14 0 1 1 22
V. Painter…………………4 7 0 1 1 8
C. Manning………………0 0 0 0 0 0
J. Springston…………….2 7 0 0 1 4
J. Brumfield……………..0 0 0 2 0 0
S. Steckler………………..6 11 0 0 3 12
M. Heeke………………….0 0 0 0 0 0
T. Smith……………………0 0 0 0 0 0
3 point field goals: Mulzer: 4, Johnson 1
Heritage Hills: 12 27 36 55
Evans. Central: 9 15 33 49