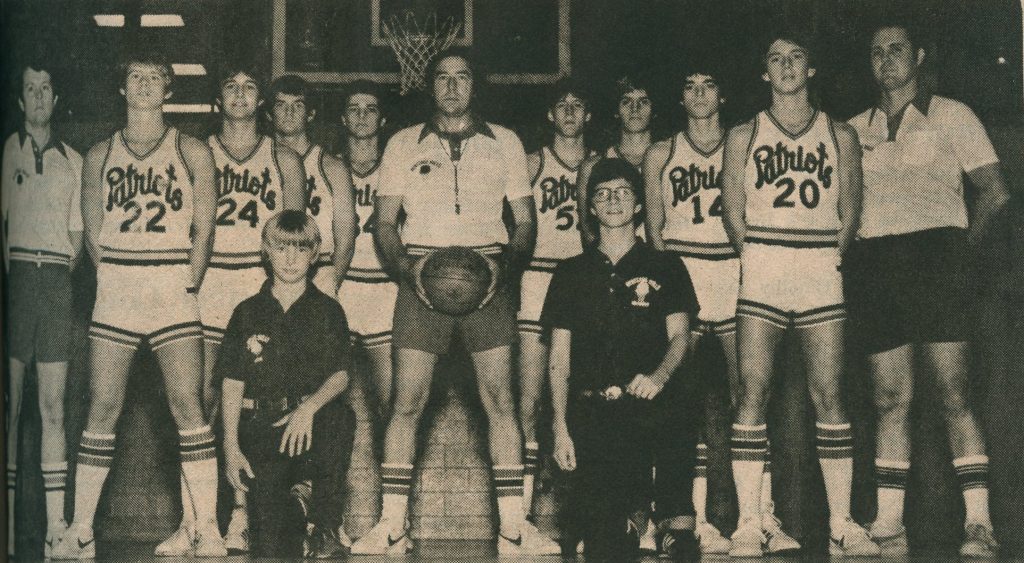 Coach Dale Hein and the Heritage Hills Patriots will open their 1981-82 Basketball campaign Saturday night when the Wood Memorial Trojans move in on Lincoln City.
Hein will be without the service of his stalwart seniors of last season, but he will be inheriting a JV team that went 17-2 last season, coming very near matching the varsity's record of 17-4.
Probably seeing action for Saturday night's game will be seniors, Tom Collins 6-0, Frank Durbin 5-8, Steve Grundhoefer 6-2, Keri Seifert 5-11, Dan Price 6-1 and Gary Shourds 5-11. Size will be coming from juniors, Brad Fella 5-5 and Darren Burnett 6-3; plus a 6-4 sophomore, Rich Hawley. Junior Steve Otto at 6-1 could also see some action.
Wood Memorial, who basically had a team of sophomores last year, will no have a team of juniors that finished last year with a 4-17 record. Coach Roger Benson decided to build from the bottom up and has developed on of the area's slickest guards in 5-9 Billy Bigham who scored on an average of about 19 pig last year.
Just one senior is on the Trojan roster: Richard Stephens, a 5-10 forward. Others who may see action Saturday night are a 6-5 sophomore Chuck Cochran, juniors Pat Duncan 6-2, Steve Sexier 6-1, Scott Galbraith 6-0, Which Hoskins 6-0, Brian Houchins 5-11 and Gordan Barnett 6-1. Two other sophomores are also on the roster: John Ayers 5-10 and Chris Tooley at 6-0.
When these two teams met last season, Heritage Hills had four men in double figures to hammer the Trojans 81-36. The Pat JV team also took a win 42-36, and they also had three players in double figures: Fella, Collins and Seifert. The only Trojan to reach the twin numbers was Jeff Hill with 10. He is not on this season's roster. As for Billy Bingham, he reached the 30 or more status three times last year: Against North Knox with 31, Tecumseh with 36 and Evansville day with 37. In spite of the 36 against Tecumseh, Wood Memorial lost that contest in 69-68 overtime.
Tonights prelim match will begin at 6 p.m. CST. This game will be a conference event and import to both teams.