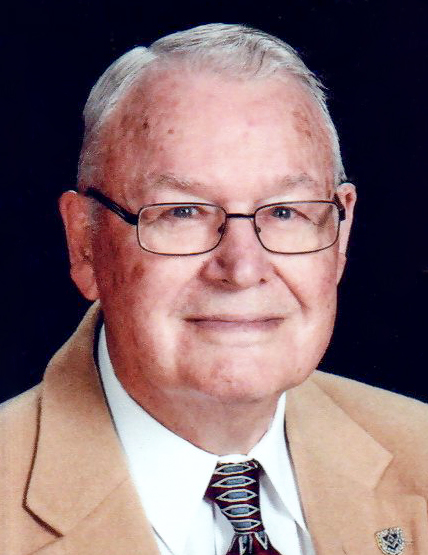 Joe Rhonald Groves, 99, passed away Tuesday, March 14, 2023, at his home.
He was born November 7, 1923, near Lamar, to Damon and Clarice Groves.
He was preceded in death by Eugenia (Gene), his wife of 76 years. Joe and Gene married in 1945 just before Joe shipped off to serve his country in Okinawa during WW II.
Their home of 70 years, remodeled many times, occupies a farmstead west of Chrisney that was originally Gene's grandparents.
Joe was an active member of Bloomfield Wesley Chapel for all his adult life. He helped build the current sanctuary building, dedicated in 1953. The youth Sunday School class he taught in the mid 1970s, started Christmas caroling and fruit basket delivery to the elderly and shut-ins, an annual tradition continued by the church to this day.
He graduated from Chrisney High School in 1942 where he played football, baseball and basketball. He attended Indiana State Teachers College for one semester before joining the military in 1944. He was assigned to support the Red Cross while in Okinawa and returned home in 1946. He worked at Salyer's Chevrolet, the Spencer County Co-op, and then with Western and Southern Insurance where he retired after 23 years.
He was a member of the Sons of the American Revolution, Rockport Masonic Lodge 112, Evansville Scottish Rite, and the Boonville VFW. Joe served on the Spencer County Credit Union board of directors, the 4-H board, and a United Methodist Church District Finance Committee. He and Gene served on the Lincoln Boyhood Drama Association board of directors, the Purdue Parent's Executive Committee, and they were named Spencer County Historians of the Year in 2005.
Joe was the proud father of three children: Larry (Jodi) Groves of Chrisney, Connie Groves (deceased in 2007), and Cindy (Bill) Lonnberg of Bloomington. Grandchildren include Ryan (Stephanie) Groves of Indianapolis, Sam Lonnberg of Greenwood and Emma Lonnberg of Bloomington. Great-grandchildren include Anna Groves of Bloomington, Illinois, and Gigi Groves of Indianapolis.
In addition to Gene, Connie, and his parents, Joe was preceded in death by his younger brother, Darwin "Pud" Groves.
The family would like to thank Dianne Chapman for her special care, and Heart-to-Heart for their skill and compassion while Joe was in hospice.
A memorial service will be held Sunday, April 23, at 3 p.m. CDT at Bloomfield Wesley Chapel, 2370 W CR 950 N, Chrisney. Boultinghouse Funeral Home has been entrusted with care.
The family requests that memorial donations be made to Bloomfield Wesley Chapel or Heart-to-Heart Hospice of Jasper.
Friends unable to attend may leave a condolence for the family at www.BoultinghouseFuneralHome.com.