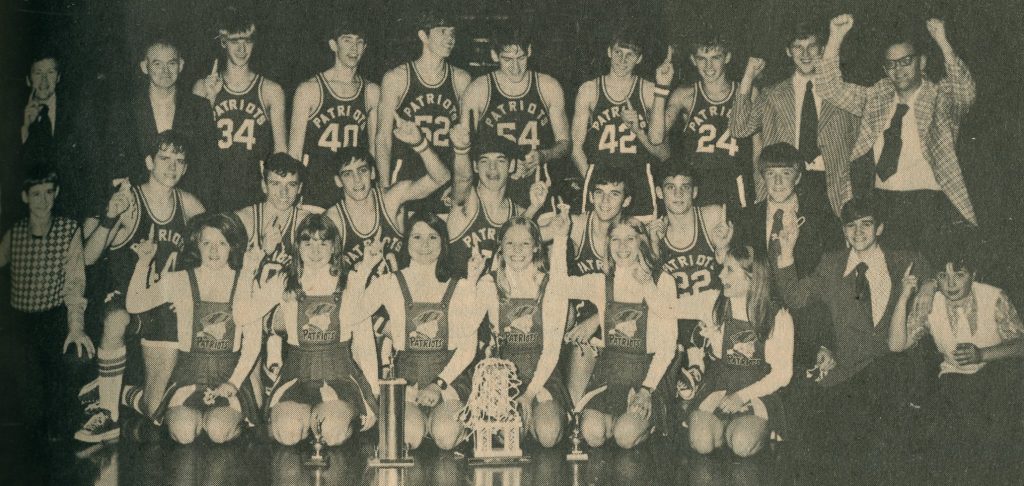 Bernie Burk's Patriots of Heritage Hills waded through the ranks of Boonville and South Spencer to capture the Boonville Holiday tourney crown Friday night! Roger Southwood of the Pats also won the Most Valuable Player award for his solid 20 point performance in the title bout as well as his tough defensive action throughout the tourney.
Four Pats paced the Heritage Hills attack with a double-figure effort as they nosed past the Boonville Pioneers on Thursday night 68-66. Tim Sigler with 14, Darrel Green, Larry Wilmes and Ken Guth with a dozen each set the tempo. It was Green who iced up the game in the fourth period when he dropped in six free throws to take the two-point victory after trailing through most of the game.
South Spencer Rebels earned the right to meet Heritage Hills by defeating Castle in a high-scoring contest 91-75. The game was knotted at 49-all at the intermission, but the Rebels surged ahead with a 42-point second half, holding Castle to 26 and won handily. Scott Johnson combined a fierce floor game with a hot shooting hand to rack up 21 points and pace his mates to victory.
Friday night, the Pats and Ebels clashed in the championship battle and the first quarter appeared to be the makings of another tight-fisted duel, ending 19-17 for the Pats. But in the second frame the Pats broke loose with a 24-point splurge and the Rebs could never recover.
Roger Southwood, stalwart forward for the Patriots was also the recipient of the tourney's Most Valuable Player award for his fine performance.
In the consolation game it was Castle over Boonville 61-51.