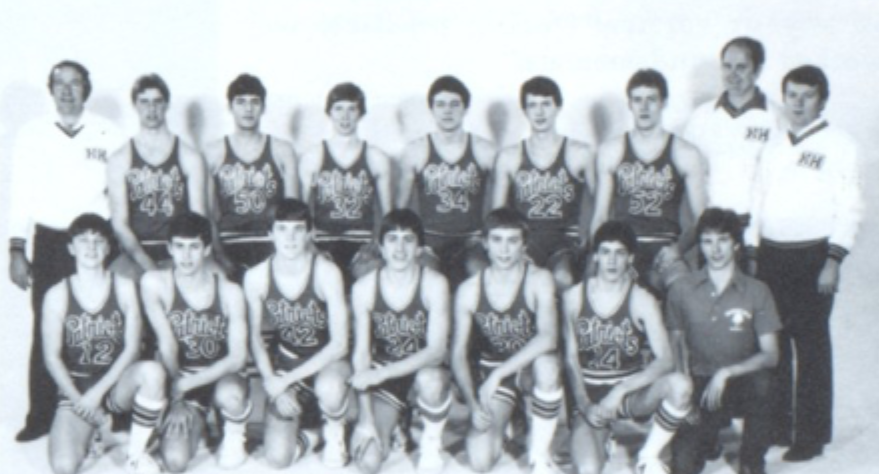 Heritage Hills patriots will travel to Rockport for battle with South Spencer Rebels tonight for the Spencer County Championship (an unofficial title owned by the Patriots the past two seasons). This will also be an important PAC bout.
Both the Rebels and the Patriots were disappointed with their season openers. South Spencer fell to Boonville by a big 19-point margin 58-39, and Heritage Hills was stunned by the Wood Memorial Trojans in a PAC encounter 58-57.
Coach Roger Guth lost his six top players from last year, including his 6-3 guard-forward, Todd Stoermer, who is now playing at Wabash Junior College in Mt. Carmel, Ill. The Rebels cannot compete in size with the Pats. Keith Ahrens, a 6-3 junior, is the tallest lad on the squad, and is not a returning letterman.
Returning lettermen are 5-10 Brad Wright, 6-1 Ray Barclay and 6-1 Sam Dowell, all seniors. Another senior, Ramon Clark 6-2, is a possible starter tonight, along with David Hart, a 6-2 junior. In their season opener it was Hart, Wright, Barkley, and Clark who were the top gunners, but one of them ended in double figures.
On paper, Couch Dale Hein should have a "dream team" of solid performers, but if this happens in reality remains to be seen as they have just one game under their belts.
Across the front line for Coach Dale Hein is a solid forest composed of a couple of 6-5 forwards, senior Darren Burnett and junior Richard Hawley; and a 6-7 center in junior Brad Fella. That is a lot of tall timber for a high school squad!
Working the back court will probably be senior 6-2 Jade Hirt and junior Keith Ayres 5-7, or sophomore Phil Wahl 6-1.
Almost certain to see action also will be 6-2 senior, Steve Otto, and freshman, John Becher 6-3, who is being groomed for the front lines.
When the Pats opened their season at Wood Memorial, it was the big front lines that carried the scoring load as Hawley scored 22, Burnett 11 and Fella 9. With three of them to contend with, it is difficult to deny them the ball.