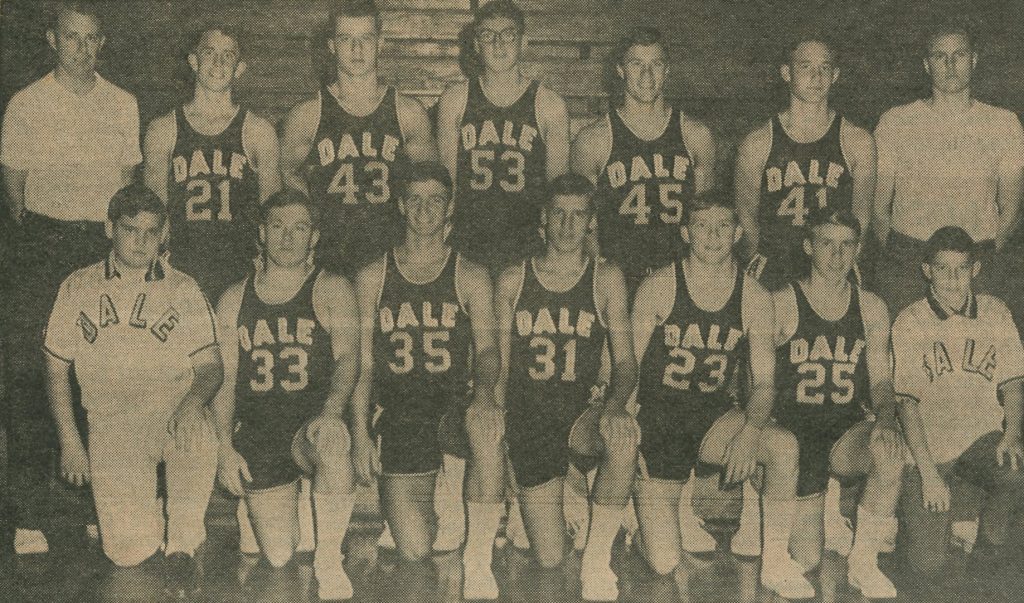 Coach Jim Cawood will head the 1967-68 version of the Dale Golden Aces as they invade Holland tonight for the opening game of the Aces season. Holland has a very satisfactory victory tucked under their belt with a 60-38 peeling they handed the Ireland Spuds. Dale will be seeking to erase the 68-43 drubbing that Holland handed them in the last season's opener.
Holland has visions of repeating with a successful season when they return to full strength. Their ace forward Gerald Hilsmeyer, a 6-4 tower of strength, has been out of action this season due to mononuceosis, and is not expected to see action tonight. Coach Woody Need execs him back in uniform within the next few weeks.
Returning for action tonight will be Don Buse a 6-2 senior guard, Phil Meyer a junior guard at 5-11.
Gary Dougan a 6-2, 180 lb. junior at center, Steve Henkem a 6-1 junior and Larry Cahle a 6-2 sophomore in the forward slots. They will be backed by Nathan Schnellenberger a 5-10 junior forward and Don Kippenbrock, a 5-8 guard. Coach Woody Need, now in his third coaching season at Holland, depends on a lightning strike and tight defense.
Dale's Golden Aces are returning with experience, but sill returning with experience but still lacking in the rangy size which would make Cawood's job a bit easier.
Topping the list of returning veterans is 185 lb. senior Ron Estes at 6-1, followed by seniors Bill Weber a 5-10 1/2, David Kress 6-2, Wayne Stood 5-11 and and Larry Wetzel 5-9 1/2. Coming up from the reserve and frosh will be juniors Gerald Emmons 5-6, Don Kress 6-0, Stan Much 6-1 1/2 and Mark Ruxer 5-11; sophomores Ken Dauby 5-5 and Rick Graman 6-3