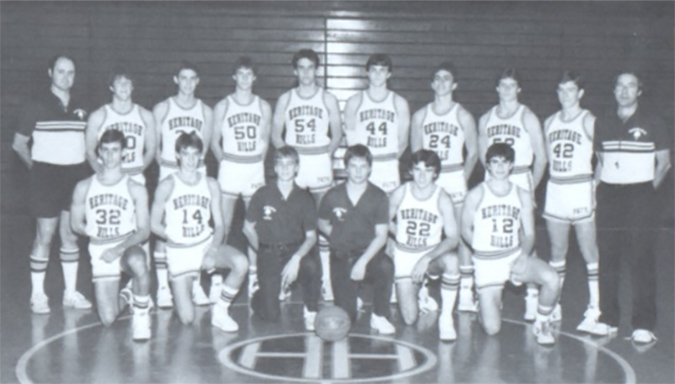 Heritage Hills Patriots and South Spencer Rebels will open their basketball campaigns at the Heritage Hills goal house tonight in a struggle for county supremacy.
This will be beneficial for the Pats who previously opened their season with a tourney at Southridge with no previous season experience. Just how the South Spencer Rebels react to this remains to be seen. They may also consider it beneficial to face Heritage Hills in the season opener rather than further down the road. Last year the Rebels took it on the chin twice from the Pats. In regular season action they lost 35-61 and in the sectional it was 58-65. The Pats finished with a 16-7 record last year, and lost two of their season starts through graduation…but they were not "little people" in any way. Brad Fella 6-7 set a new school career scoring record with 901 points, and was devastating under the boards on defense. Ken Heckel also moved on and was a starting guard.
Coach Dale Hein will not have a lost of seasoned players back this year. Lettermen will be 6-6 John Becher, a junior; Phil Wahl 6-3, senior; Don Jones 6-0 and Ron Painter 6-6, a junior.
Coming up from the JV team of last year will be 6-0 Kevin Gogel, and Randy Kearney 5-9, both seniors; Neal Daunhauer 6-2, Scott Litkenhus 6-2, Troy Jackson 5-10, Don Jones 6-0, Kurt Arnold 6-0 and Matt Hallman 6-2 and all juniors. Also listed with the variety squad are Mark Bates 6-0, Darren Lynam 6-0, Mike Crews 5-11, Tim Grundhoefer 5-10, Tony Lake 5-7 and Steve Like 5-11.
South Spencer not only lost a big part of last seasons starters, they are also starting the season with a new basketball coach, Jed Beadles, after Roger Guth stepped down. Gone from the roster are five players and four of them were starters. Norm Lauer, Sean Miguel, Doug Lehr, David Hart and Keith Ahrens all went the graduation route. Three seniors are on this year's are on this year's roster: 5-10 Brad Rust (a starting guard from last year), Bill Lindsey 6-3 and Chris Allen 6-4. Lindsey and Allen carry letters and saw some action last season. Backing these seniors will be six juniors: David Williams 5-10 1/2, Scott Wandel 6-1 1/2, Sean Ferguson 6-2 1/2, Bobby Richards 6-3, David Schraner 6-3, and Jason Shourds 6-3. Two sophomores round out the roster: 6-1 Jeff Beatty and 6-5 Tracy Clark.