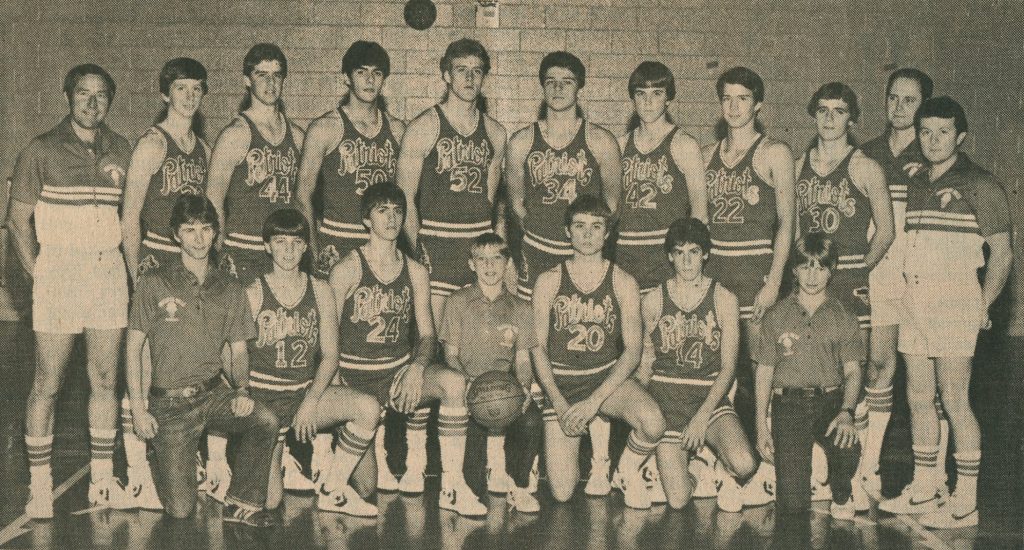 Dale Hein's Patriots of Heritage Hills will open their basketball campaign Saturday night when they travel to Wood Memorial for a PAC game with the Trojans.
Defending a 19-6 season record including the Boonville sectional crown and the Boonville tourney crown and a finalist in the Evansville Regional.
Lost through graduation are Ken Steifert, Tom Collins, Frank Durbin, Steve Grundhoefer, Gary Shrouds, and Dan Price, but they have a good nucleous returning. Senior Darren Burnett 6-5 saw a lot of action last season, as did junior, 6-7 Brad Fella, which should put a lot of strength up front on the boards. Backing that up with junior, 6-4 Paul Schaus, should give Pats all the height needed.
Also on this season's squad will be seniors, Jade Hirt 6-2 and Steve Otto 6-2; juniors, Keith Ayres 5-7, Ken Heckel 5-7, Dan Phillips 5-9 and Tim Vaal 5-11. Phill Wahl, a 6-1 sophomore, and John Becher, a 6-3 freshman, are also listed on the Patriot varsity, and Coach Hein will probably be looking over the entire list for a starting give or maybe a starting 7.
Last season it was the guards, Ken Steifert and Gary Shrouds, who provided most of the scoring punch for the Pats, but with the size and experience up front this season, the Patriot punch could come from all angles.