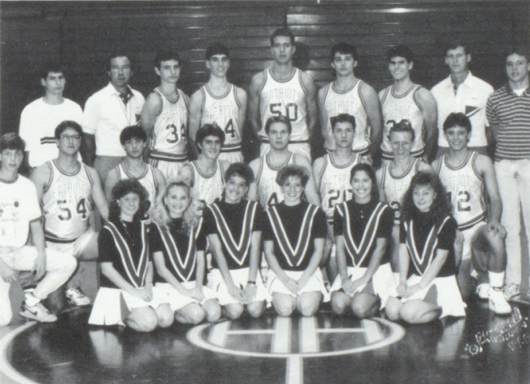 Heritage Hills Basketball Coach Dale Hein will probably start five seniors tonight when the Cannelton Bulldogs invade.
The Pats will not have dominating front line of last year, but it is still impressive. Filling the center slot will probably be 6-6 Matt Sisley. In forward spots will be 6-2 Brian East and 6-1 L.R. Southwood.
In the back court will be Jeremy Hein as point guard and Mike Troth at 5-10 1/2.
Coach Hein will probably experiment quite a bit this game, seeking to find what five work the best together. He will be looking at seniors Heath Hall and Tim Obermeier, junior Dennis Kirkland and sophomores Ricky Meyer and Jason Wilkerson.
Gone through graduation Ken Dilger and Steve Schaefer, John Wetzel and Klint Arnold, which would be quite a loss for any team, but they do have some returning veterans such as Sisley, Troth, etc. Which could make the nucleus of another fine season.
Cannelton opened their season last week Friday when they visited Forest Park. They played on even terms all the way until the closing minutes when the Rangers pulled out to a 10-point win 49-30 . . . but it was the first game and neither team looked polished.
Coach Mike McClintic started two seniors and three juniors and substituted only when they needed a little rest. Top gun was a 5-11 1/2 junior forward J.R. House, who also gave indication that he is a 3-point specialist, scoring three of them against the Rangers. He finished with 13 points. Brad Wore finished the night with 12 points from his center position. Brad is 6-2. At point guard was Brian Lawalin, who scored just seven points against Forest Park, but is a potentially dangerous player at all times. This is his fourth season on the varsity at Cannelton. The other guard was Chris Melton, a 6-3 senior who picked up seven points of his own. Eric Maxey a 5-10 junior has been injured and saw very little action. Tommy James, John Malcom and Gary Brimfield got into the lineup, but only at the very last minutes.
Cannelton was not on the Patriot schedule last season, and the only time they faced each other was in the Boonville sectional where the Pats demolished them 84-60. If we would be asked to bet on tonights game, our money would be riding on the Pats.