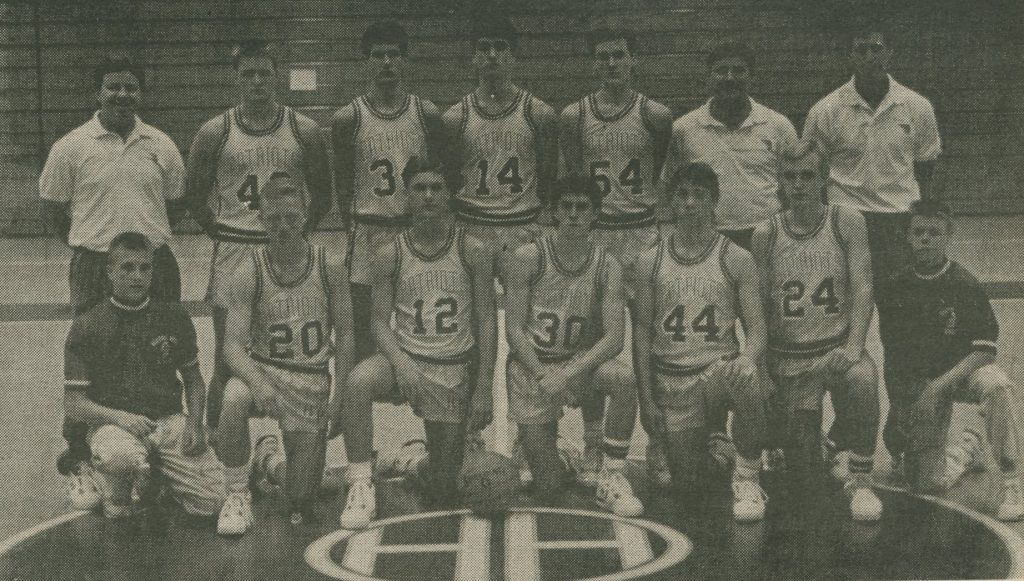 by Jon Hufnagel
Heritage Hills boys basketball team will open their 1990-81 (correction '91) season Friday, Nov. 23 at Southridge, The Patriots have played in this tourney since 1983 and have compiled a 7-7 record.
This two day affair includes Northeast Dubois and Jasper, along with host Southridge. All four teams are looking to improve over last year's unimpressive records. Heritage Hills finished 9-12; Southridge at 11-11; Jasper a 4-18; and Northeast Dubois 7-15. Alan Matheis (Northeast Dubois) is the only returning coach in action for this event. Steve Merkel succeeds Dale Hein at Heritage Hills. Ray Roesner has taken over from Gary Duncan at Southridge, while Ken Schultheis replaces Ed Yarbrough at Jasper.
The roster for Heritage Hills consists of four seniors, five juniors and on sophomore. This relatively inexperienced squad has only two returning lettermen; Dennis Kirkland, a 5'10" senior guard, and Rick Meyer, a 6'2″ junior. Expected to also see a lot of action are 5'10" senior Don Deitrich, 6'1″ junior Josh Hufnagel, 6'2″ junior Rob McCullough and 5'8″ junior Jason Wilkerson. The Pats don't appear to have a standout start and are opening in a different system than in year's past. They will probably have to be patient without holding the ball, in order to be successful this season.
Northeast Dubois, has two games under its belt already. They have beat Crawford County, 93-57, and Barr Reeve 61-51. The Jeeps are led by a foursome of seniors. Derrick Bair, Steve Dodd, Steve Kalb and Greg Werner combined for 75 points in their season opener against Crawford County. Dodd is the big gun, scoring 26 and 21 points respectively in the first two games, Kalb is their floor leader and opponents will have to figure out some way to stop his leadership abilities to be competitive against Northeast Dubois.
Jasper opened its season against Washington Catholic on Nov. 20 (results were not available at press time). Shultheis will probably utilize 6'2″ seniors Greg Nordoff and Jason Lichlyter, six foot senior Todd Roles and 6'3″ junior Andy Noblitt, in a slow down Offense. Patience will be the key to the Wildcats season.
Host Southridge is using the tourney as their season opener, coming off of last season's 11-11 record. Returning Raiders include two 6'3″ seniors, Mark Buse and Greg O'Brien. Buse was the leading scorer in Dubois County last year and is a three year starter. Seniors Scot Allen, Jayme Rasche and Brett Begle will see a lot of action, as should 6'3″ junior center Chad Clark. This much height and talent, along with a bench full of juniors, could make a Southridge the team to beat in this year's tourney.
Advance tickets sales are $6 for adults and $5 for students. All tickets at the door will be $4. Only adult season tickets will be available at Window 4 the first night.
Session I, Nov. 23 will be: Game 1, Jasper vs Northeast Dubois, 7 p.m.; and game 2, Southridge vs Heritage Hills, 8:30 p.m.
Session II, Nov. 24 will be game 3, loser game 1 vs loser game 2, 7 p.m.; and game 4, winner game 1 vs winner game 2, 8:30 p.m. All times will be played on EST.
Other PAC teams in action this week will be Pike Central at Wood Memorial on Nov.24.