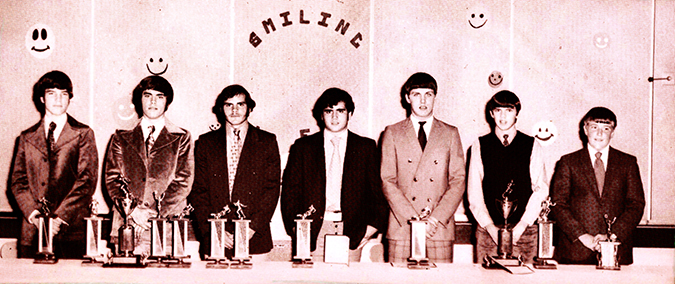 A record crowd attended the annual fall Sports Award banquet at David Turnham center Tuesday night, where cross country and football teams were honored and awards were presented.
Stan Spayd, son of Mr. and Mrs. Ray Spayd of Dale and a senior at Dale High, was given the Kiwanis Cross-Country Award. This award is based on scholarship, sportsmanship, leadership ability, citizenship and character.
Another senior, Bill Brown, son of Mr. and Mrs. R. C. Brown of Dale, was awarded the Outstanding Athlete trophy. Bill also received three more trophies from the school awards, which adds to the collection of athletic awards at the Brown homestead.
Awards presented by the high school were as follows:
– Tackle Awards– Tim Winchell, Mike Williams, Bill Brown and Rick Hufnagle.
-Outstanding Defensive Back– Mike Williams.
-Outstanding Offensive Lineman– Bill Brown.
-Outstanding Offensive Back– Mike Williams.
-Most Valuable Player (Football)– Bill Brown.
-Most Valuable Player (Cross Country)– Stan Spayd.
-All Conference Awards– Bill Brown, Center; John Brown, offensive guard; Tim Winchell, defensive guard and Rick Hufnagel, defensive end.
Football letters were presented to the following: Rick Hilem Tom Bettag, Steve Kendall, Ride Winchell, Chigger Hile, Kenneth Guth, Tom Springston, Tom Russell, Bill Brown, Tim Winchell, Lee Phillips, Doug Herr, Steve Prusz, John Brown, Dan Hufnagel, Jeff Rupp, Robert Fuller, Van Tuley, Robert Wibbeler, Erwin Rexing, Rick Hufnagel, Mike Williams, Wallace Schaaf (mgr) and David Jochin (mgr).
Kiwanis's President, Joe Zogleman, Served as master of ceremonies for the evening.
Following a sumptuous carry-in banquet furnished by the PTA, sports fans, team members mothers and Kiwanis families, the program got underway.
Howard Buickel, principal of Dale High School gave a brief talk and commanded the teams of which he has great pride.