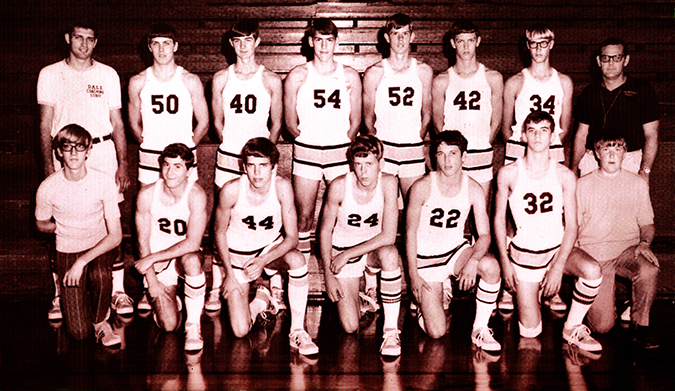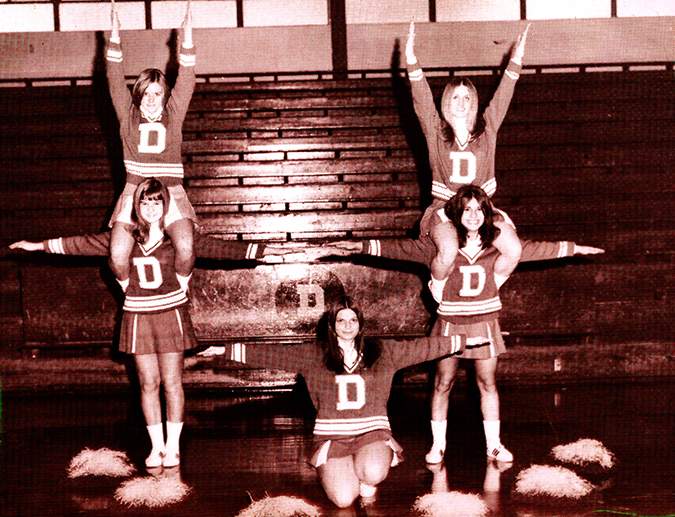 Bernie Burk's Golden Aces of Dale will open Friday night when they host the Castle Knights. This will also launch Castle's roundball season.
Although the Aces have good size and balance, they will be looking up to Castle's senior center, Bill Farmer who is listed at 6′ 7″. He did not show up in last year's lineup until the eighth game of the schedule, and his best effort then was 13 points.
Top gunner from last year was Reinbrecht who will be remembered by Dale fans fro his 30-point effort against the Aces. He has passed through the graduation route and is no longer a threat.
Returning from last season are 6-2 senior Jerry Grandson who racked up 13 points against Dale; Terry Bauma a 5-11 senior.
Two more seniors grace this season's roster: Rick Watson 5-9 and Dave Luttrell 6-2. Four juniors: Clarence Davis 5-9, John Ussery 6-0, Jeff Allen 6-2 and Lloyd Titzer 5-9. Three sophomores, 6-3 Dave Knight, John Miller and Dennis Warren both 6-2 freshman Lloyd Jones, rounds out Coach Roger Benson's first year commanding the Knights.
For Dale Golden Aces, it should be a "golden year" indeed! Coach Bernie Burk lost Rosbottom, Lubbehusen and Hobbs through graduation, but he has loads of talent returning!
Starting lineup Friday night could very easily be Jay Guth 6-1, Rick Hufnagel 6-2, Roger Southwood 6-3, Larry Wilmes 6-5, and Rob Wibbeler 6-3. That is good size in any high school roster down in this neck of the woods! Guth and Hufnagel are seniors, the others are juniors.
Rounding out the roster are 5-9 John Cassidy a senior; Frank Begle 6-3, Steve Kendall 5-6, Chigger Hile 5-11 and Mike Schum 6-2 1/2, all juniors. Ken Guth, a 6ft junior will be out of action for a while due to illness, but is expected back on the lineup.
Dale is defending a 14-9 season record and came within an eyelash of taking last year's Boonville sectional, falling to powerful Tell City 56-51, in the finale. This should be a banner year for the Aces.