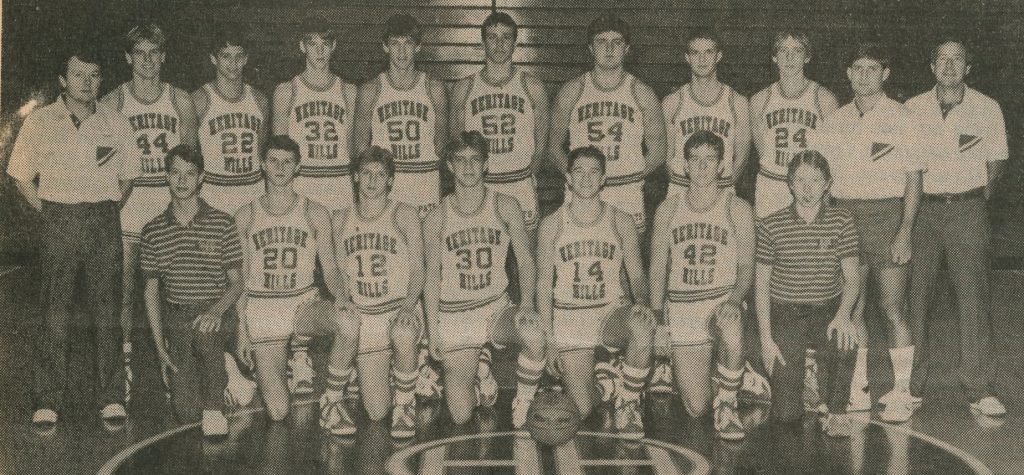 South Spencer Rebels will be the first basketball team to test the 1986-87 Heritage Hills Patriots. That will take place tonight in the Patriot goalhouse when these two county teams collide. South Spencer will be seeking to overturn a tradition of losing to the Pats which has prevailed since the 1981 sectional one the Rebels took a 39-37 win in a slow-down coup.
Mark Bates at 6-1 will probably start a forward, along with 6-1 Jeff Hein. Bates is a returning letterman and a senior, Hein is a junior. At center will probably be Kenny Dilger, a 6-2 1/2 sophomore. In back court can be found Darrne Lynam, a 6-0 senior letterman, and David Litkenhus, another senior at 6-1 1/2 and a letterman.
A 6-3 1/2 senior John Obermeier has not been on the team since a freshman, will need a lot of time to catch up. Mike Crews who would probably have started at guard, is still on the injury list suffered in football and just when he will be ready for action is anybody's guess.
The Pats finished a 18-6 record last year and are defending PAC champs.
South Spencer Rebels are big a dn experienced and coach Jed Beadles is smiling . . . he should expect to have on of his better years. Across the front line could be 6-4 1/2 Ken Mattingly, a senior; 6-7 Tracy Clark, and senior; Jeff Beatty 6-3 1/2 and a senior. In the back court could be junior Tom Mattingly 6-3; Robin Voyles a 5-8 1/2 senior, or Dirk Lehr a 5-11 junior.
Backing them up could be Eric Wandel a 6-3 junior; Joey Loving 5-11, Abe Bartlett 6-1, Parish Casevier 6-1 or Brett Schultz 5-10 1/2.
South Spencer finished a disappointing 9-12 season including a 44-36 loss to the Pats. Tonight should prove interesting.