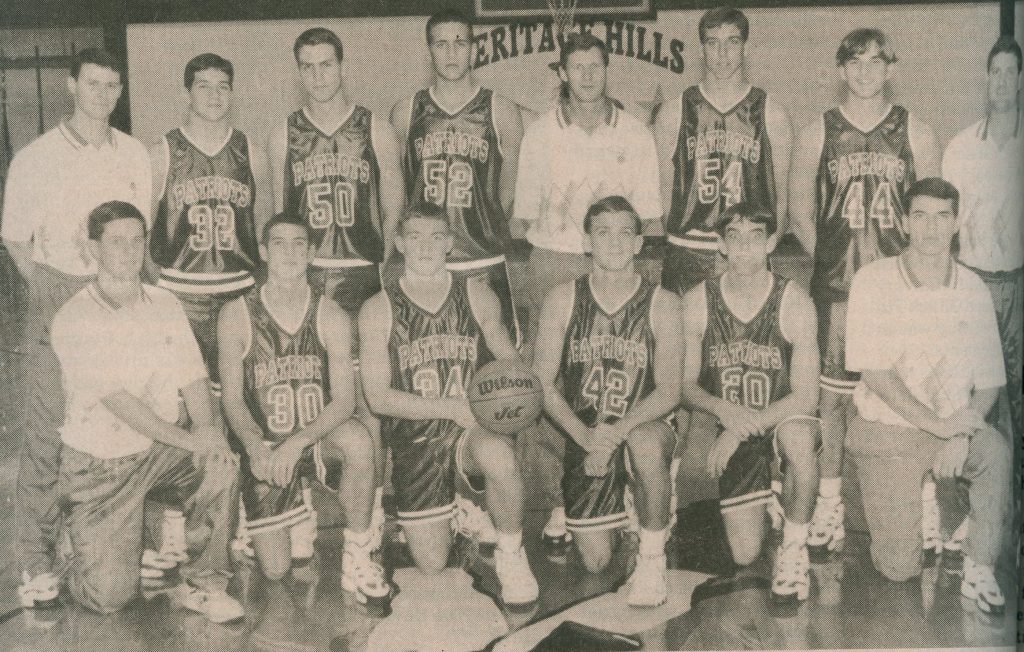 by Brian Bohne
"Potential" is a scary word. And right now, that may be the best word to describe the Heritage Hills basketball team.
Last year it took the Patriots a while tog et going, but when they did, they were one of the most dangerous teams in southern Indiana.
With three lettermen and a crop of young talent returning, the "potential" is there for another successful season.
There is plenty "potential" in the backcourt. "we will be pretty quick and should be strong at the guard position," said Heritage Hills coach Steve Merkel. "Peter (Jochim) and Tim (Denning) proved they could score last year, and with Matt (Lovell), Beau (Pund) and Mitchell (Schorr) we have a lot of guys that can play those positions."
The Patriots will be fairly inexperienced everywhere else. "We only have one full time starer back from last year (Peter Jochim). We definitel have some youth and inexperience but if they develop, we should be okay." He continued, "Josh Wetzel played mostly JV last year, but he showed good shot blocking and rebounding ability. we will just have to see how all the young guys respond this year."
The Pats were scheduled to open their 1995-96 season in the Southridge Holiday Tourney this Friday against (pre-season) sixth ranked Jasper. Jasper is still playing football, so the tourney has been postponed to a later date. At press time, the new day was not yet determined. Even though the game will be at a later date, Merkel had thoughts on the Wildcats matchup. "They are ice if the vest teams ariybd were because if (IU bound) Michael Lewis. He is a heck of a basketball player. They have some athletes to go along with him and they're definitely going to be a hard team to beat."
The Patriots will now open their season Dec. 2 at home against an always tough Princeton team.
Jasper and Princeton are only two of the many tough teams on the Patriots schedule. "Gidson Southern has a lot of experience back and South Spencer will be good again, along with Tell City."
A very strong PAC schedule will await Heritage Hills as well. "Besides Gibson southern and South Spencer, you have a veteran Southridge team, a Pike Central team with some good young talent, I think we (Heritage Hills) will be in the hunt and Tecumseh and Wood Memorial have some good players back. It will be balanced conference."
A conference title is one thing Merkel has his eyes on. "I am optimistic. We have a shot at conference title, and a sectional title. The 'potential' is there to be a good team.