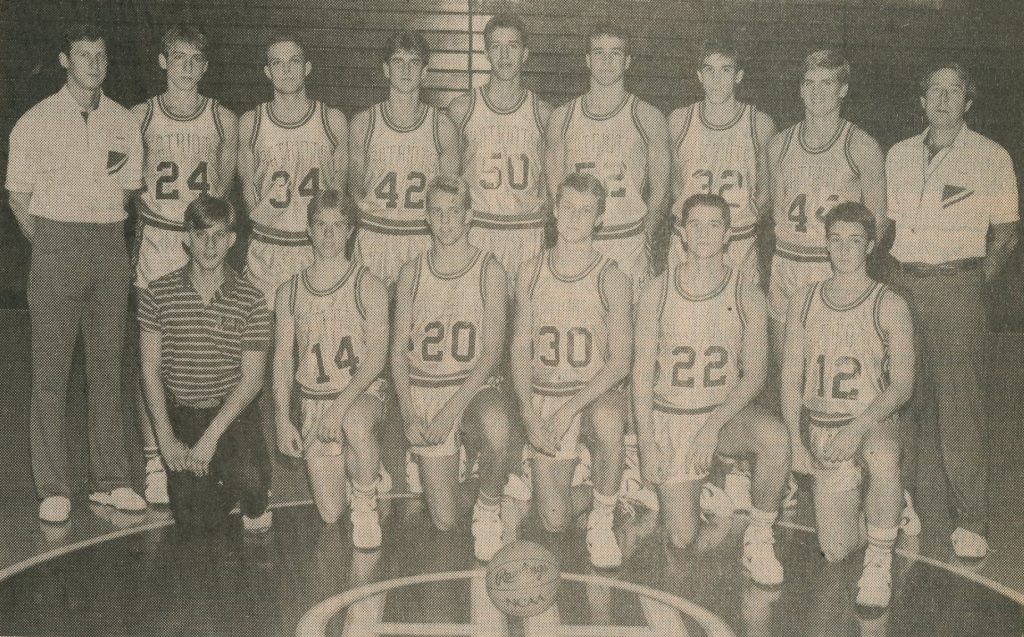 Heritage Hills Patriots will launch their 1987-88 basketball season tonight when they square off against Jasper in the annual Southridge Invitational tourney.
Southridge and Northeast Dubois will open the tourney at 7 p.m. and the Patriot-Wildcat clash is set for 8:30 p.m.
There has been a change in the championship schedule. Because Jasper is still in the IHSAA football tourney championship and consolation games for the Southridge tourney have been moved to next Tuesday at 7 and 8:30 p.m. EST.
Heritage Hills fans will be seated in the southeast quarter of the gym and will use Gate 1 to enter the gym.
This will not be Jasper's first game of the season. They handled the Washington Catholic Cardinals ver well on Tuesday night, taking a 68-51 win from their visitors.
Scott Yarbrough, a 6-1 junior guard, set their offensive pace with 22 points. He was given help from his running mate, Mike Bell, a 6-6 1/2 senior guard. Steve Hoffman, a 6-3 junior, had 11 at forward. The other starting forward was Paul Hedinger, a 6-1 senior. At center was Chris Nelson, a 6-6 1/2 senior, who did not score. Others who may see action are four juniors: John Bottorff 6-3 1/2, Craig Greulich 6-3, Brad Dedrick 5-11, or Brian Seifert 6-1. Coach Ed Yarbrough said that they contained Washington Catholic's Ace guard Ty Madison to just seven points through the first three quarters, and after he started sending in substitutes, Madison got out of hand and finished with 22 points.
Heritage Hills will open their season with two returning starters. David Litkenhus, a 6-2 1/2 senior who averaged 13.1 points per game last season; and Ken Dilger, a 6-4 1/2 junior who averaged 8.5 p.p.g. an 7 rebounds.
Other probable starters will be Jeff Hein, a 6-2 1/2 senior; Todd Wilkerson, a 5-9 senior; Klint Arnold, a 6-1 junior.
You may see Steve Schaefer, a 6-3 1/2 junior, Ken Mulzer 6-1, Kevin Heckel 6-2 before the tourney is over.
Veteran coach Dale Hein was not too satisfied with their performance in last year's tourney, losing both legs. First to Southridge in a squeaker 53-52 and then to Northeast Dubois in the consolation game 61-54. They closed out their 1986-87 campaign with a 11-10 record.
Southrige will probably come out with a lineup of Tony Cochran, a 6-0 junior, and Ryan Steinhart, a 6-4 sophomore, at forwards; Andy King, a 6-4 senior, at center; and Andy Stout, 5-11 senior, and Chad Wilkey, a 6-0 senior, in the guard slots. John Schroeder a 6-1 junior, will also probably see some action, or maybe Wesley Graham, a 6-1 senior; Mark Buse, a 6-2 freshman; or Steven Patberg, a 6-0 sophomore.
The other team to compete in the tourney will be the Northeast Dubois Jeeps who already have two wins under their belts this season. They pounded Crawford County 65-38 and Barr Reeve 66-57. Coach Alan Matheis will probably start seniors Todd Allen 6-5, Mark Haskins 5-9 1/2 and Steve Kluesner 5-11 1/2; plus Dennis Rasche 6-0 and Barry Wright 5-11 1/2. Both are also seniors. Juniors Jon Bauer 6-3, Bill Fendel 6-0 1/2 or Gene Harder 5-11 could also draw starting roles, or at least get into the action.