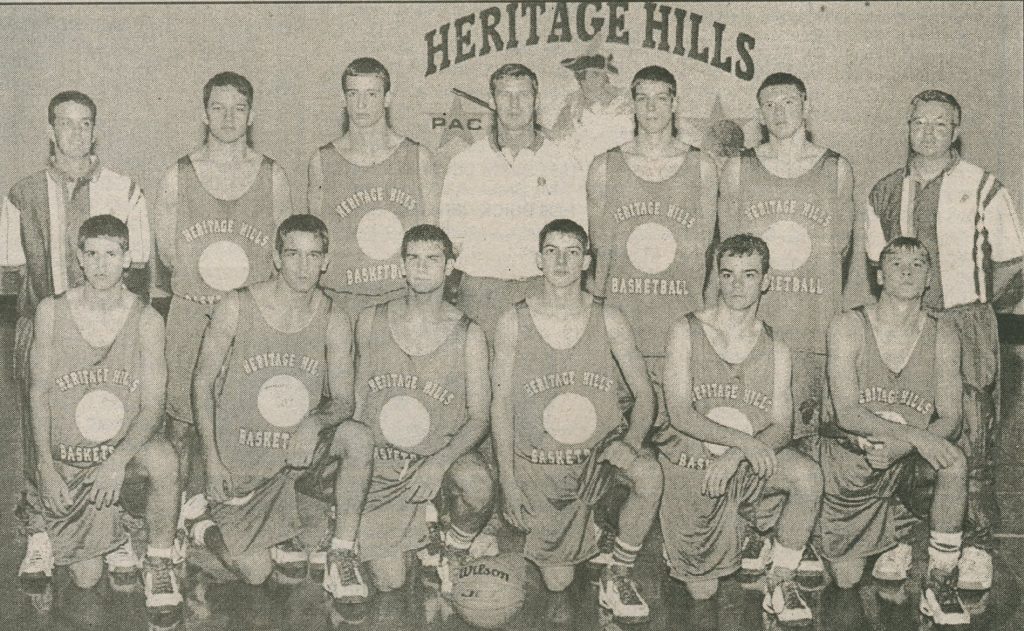 By Brian Bohne
When Heritage Hills coach Steve Merkel said good-bye last May to all-time leading scorer Tim Denning, 6-6 center Kris Hirt and Sharp shooting swing-man Mark Wahl, he didn't just give a fond farewell to three run-of-the-mill basketball players. He said good-bye to three kids capable of scoring 20 points every time they stepped on the floor.
With that in mind, some may suggest the Patriots are in for a rather long season in 98-99.
That however, might not be the case at all.
The Red, white and blue still returns three seniors and six lettermen from last year's 13-9 squad, leaving Merkel optimistic.
"We lost a lot of scoring. Theres no doubt about that. We may have less points coming back than any other team in southern Indiana. But the potential is there for us to be a good basketball team." Coach Steve Merkel says.
Players like Luke Woolems, Zach Lambeck, Symon Jochim, Jay Cutler, Bryan Mitchel and Jarod Morrison are the reason he feels this way.
"This is a hard working group. They come to practice ready to play and they'll come to the games ready to play. I think that's what I like the most about this team," he said. "They're scrappy, they play well together and they are going to do everything in their power to help us win games."
Merkel knows none of his returning lettermen will score 20 or 25 points a game, but all are capable of putting the the ball in the basket.
"We are definitely going to have a balanced scoring attack and I think that is good." He added, "We won't rely on one or two guys to do all our scoring. We have a team of role players they make up for in quickness and hustle.
"These guys aren't afraid to go after loose balls and they'll go after it on the defensive end," added Merkel. "They have pretty decent quickness and they give a 110% all the time."
They'll need that effort when they open their season against the host Raiders in the Southridge Holiday Tourney on Friday night. The Pats defeated Southridge in last years title tilt.
"We know it's going to be a very tough ball game. They have two key players back in Mitch Stetter and Whitney Neukam," said Merkel. "Those two kids are All-Conference caliber players."
Merkel said the key to being successful against the Raiders is to contain the 6-4 Neukam and 6-3 Stetter.
"We certainly have to be aware of those two guys all the beat us. We have to try to contain them, but that won't be easy to do," he said "We need a very strong defensive effort and then we'll have to hit the basket on the offensive end."
Southridge will be the first of many tough opponents, according to Merkel.
"There are a lot of good teams out there. Memorial has everyone back but (Clint) Keown. Bosse is going to be very strong. South Spencer has some good kids back with (Brad) Ayer and Jacob (Wilhelmus). Jasper will be tough with Frank (Mujezinovic) in the middle. Perry Central, Forest Park, Castle, and Techumseh all have quite a but returning as well." he said. "There are no easy games."
Despite the tough schedule, Merkel feels if his team continues to develop and improve they can very competitive.
"We want to improve from game to game and try to reach our potential," said Merkel. "If we do that, we'll be competitive."