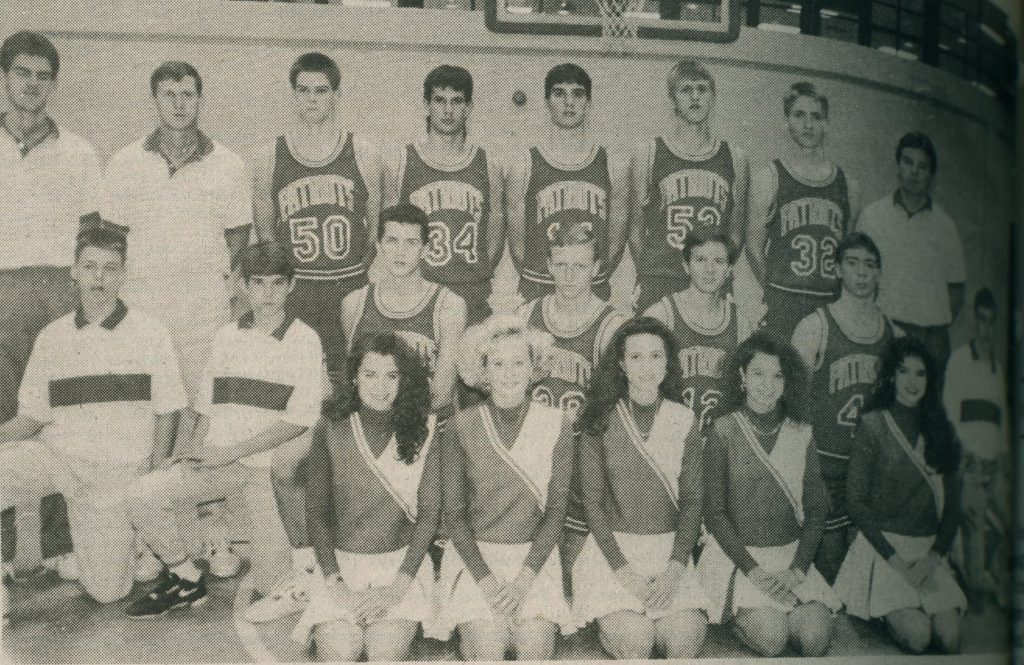 by Jon Hufnagel
Heritage Hills will open their 1991-92 campaign at the Southridge Tourney this Friday and Saturday. Aiming for a better record than last season's 4-17 mark, the Patiots will play Jasper at 6:30 p.m. (CST) in the second game Friday night.
Northeast Dubois and host Southridge begin the tourney action at 5 p.m. CST.
Jasper returned three starters from last season's 10-11 unit. Andy Noblitt, a 6'3″ senior; 6'1″ senior Scott Mills; and 6′ 2 1/2″ junior Scott Rolen will Provide the floor leadership for Ken Schultheis's Wildcats.
Two of last year's top substitutes also return: 6'1″ senior Kurt Leinenbach and 6'2″ junior Brent Mehringer. Others hoping to see action are 6'3″ junior Matt Fuhs, 5'11" junior Kurt Fuhs, 6'3″ senior Ron Malone and 5'11" senior Ryan Giesler.
Dubois mentor Alan Matheis has only three seniors on his Jeep team this time around. The seniors are 6'3″ Michael Cave, 6′ Jason Voekel and 6'5″ Aaron Simpson. The junior contingent consists of 5'11 1/2″ Kevin Kalb, 6'1″ Dustin Cave, 6'2″ Jay Brinkman, 5'11" Clint Wininger and 5'10" Lance Piper. Three sophomores round out the unit: 6'4″ Rodney Wolfe, 6'5″ Derrick Stenftenagel and 6'1″ Ryan Matheis. The Jeeps are bigger this season but also younger.
Southridge coach Ray Roesner returns three starters from last year's squad that went 15-8 and won the Southridge sectional crown. Chad Clark 6″4″, Eric Schmieg 6″ and Jeff Tooley 5'11" are the three returning seniors. The trio collectively averaged 30 points per game. Raider height comes in the forms of 6'8″ Jason Schnieders and 6'7″ Scott Thompson, both juniors. Also on the roster are 6'3″ senior Jason Kleeman, 6'1″ junior Chris Kamman, 5'11" junior Jason Tucker, and 6'2″ Tim Tooley.