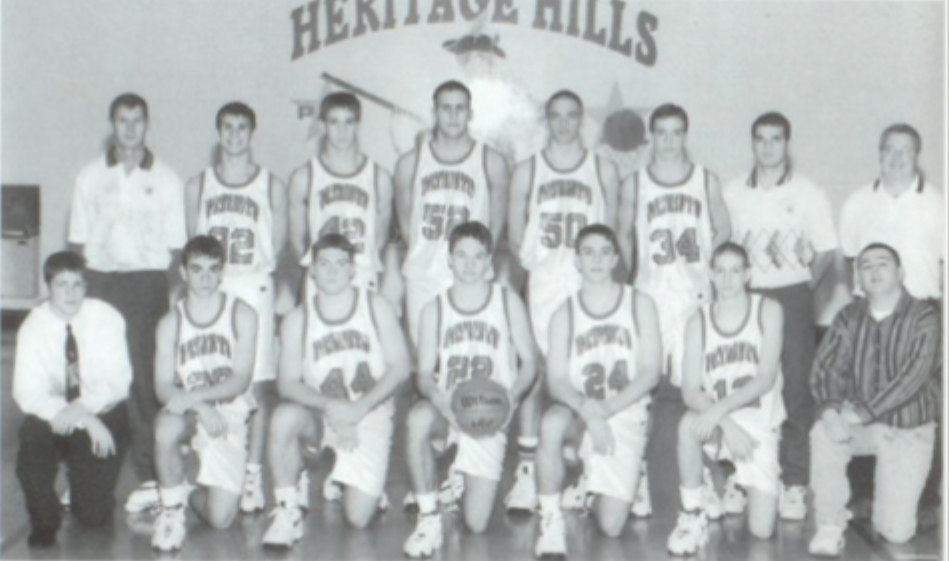 by Brian Bohne
To say that Heritage Hills had a successful season last year ago would be a slight understatement. Saying they had an awesome year, that may be a better way to describe their accomplishments.
The Patriots captured their first sectional title in the 90's. They came within an eyelash of knocking off the eventual regional championship. They finished the year ranked in the top 20 and won 21 games.
It may be a stretch to accomplish all that again this year, but then again, maybe not.
Heritage Hills returns five seniors and four lettermen, giving Patriot mentor Steve Merkel a good reason to think another big year is possible.
"We've got this talent to be a good team," he said, "I think we have a good nucleus back. Some of the kids played more than others, but with five seniors who can all contribute, you have to feel pretty good."
Especially when one of those seniors is Tim Denning. The talented guard was the team's leading scorer a year ago. He averaged nearly 20 points per contest.
"Tim is a legitimate 'go to' player," said Merkel. "This is his forth year on the varsity and he is very solid."
Denning gets support from 6'6" senior Kris Hurt and 5'11 senior Mark Wahl. They both started a year ago and are capable of big nights.
"Kris gives us a good inside presence and Mark really seems to have stepped his game up.He's been very aggressive in practice," added Merkel. "I would have hope that there are three 'go to' players on this team."
Right now, Merkel just wants his players to work together and gel as a single unit.
"You always worry about chemistry," he said. "Last year we had seniors like Josh Wetzel, Beau Pund and Mitchell Schorr who didn['t worry about the individual stats. They just wanted to win. they hated to lose. They were extremely competitive and I think that's why we were so successful."
If Merkel can find that same chemistry this year, they can be successful again.
"There's a lot of things we need to work on. we need to work extremely hard on blocking out. We have to work on our ball handling and passing and we need to improve our shooting some," he said. "But, I think we can get better at all those things if we work hard."
The Patriots will need to work very hard when they open their season against Jasper in the Southridge Holiday Tourney Friday night.
"Jasper is going to be a real good test," said Merkel. "They have a new coach, so I'm sure they want to get off on the right foot. They will be upbeat and ready for us."
The Cats will not only feature a new coach, but also one of the best big men from Southern Indiana in Faruk Mujezinovic.
"Faruk is a solid player. He's 6'8" and I hear he's really improved his shooting range," said Merkel. "I know he had a real good summer in AAU ball, so he will be a handful."
Containing Jasper's big man will be crucial if the Pats are to walk away with a victory against the Cats.
"I don't think there's any question we have to try and contain him. And I also think we have to match or exceed their level of intensity," commented Merkel. "If we can do those two things, and shoot the ball well, I think we can be successful. it should be a good ballgame."
The Patriots will see plenty of good teams down the road, according to Merkel.
"We don't see Evansville Bosse during the regular season but they are in our sectional now and they may be the best team around." he said. "I also think Vincennes, Pike Central, Boonville, Mt. Vernon, South Spencer, Castle, Tell City and Perry Central will be strong. There's not going to be many easy games. We have to come ready to play every night."
Despite the tough competition, Merkel has lofty goals for his team.
"We always would like to win the conference and the sectional and the ultimate goal is to bring the first (basketball) regional title to the school," concluded Merkel. "But to do that, we have to get better every day. I think that is the most important thing. If we can get better every time we step on the floor, we can be successful."