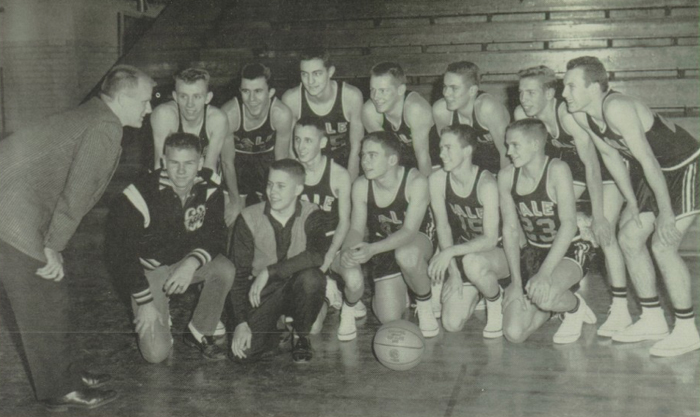 The Dale Golden Aces basketball team began practice Monday, October 24, with 24 candidates making their appearance , under the guidance of coach Lawrence Prusz. A good practice session was held each day of th week.
The Aces will be working toward the goal of maintaining their status as Champions of the P.A.C. The returning lettermen are as follows: Pat Arnold, Gary Flamion, and Tommy Schum.
Bill Smith, as regular on Winslow's '59-60 basketball team is expected to make a noteworthy contribution to the Aces quintet. Bill is the son of former Winslow star Albert Smith, who currently is a member of the Dale High School Faculty. The Freshmen Grades will begin practice sessions November 7, under the supervision of Coach James Giovanetti and Carmen Stapleton.
Nov. 11, 1960: Aces will Play Dubois Next Friday
Dale's Golden Aces will host the Dubois Jeeps Friday, November 18, at the Dale gym. The Aces will be seeking to avenge a defeat dealt by the Jeeps last season.
The Contest will be the fourth game of the season of Dubois, who last year compiled an admirable record of 17 wins and 4 losses.
Dale's varsity roster is as follows:
Guards: Bill Smith, senior, 5-10; Gary Flamion, senior, 5-11; Leon Libert, senior, 5-5; Van Kaiser, junior, 5-9; Forwards: Pat Arnold, senior, 6-1; Tom Schum, senior 5-9 1/2; David Grundhoefer, junior, 5-10 1/2; Stan Guth, freshman, 5-9; Centers: Norm Begle, senior, 6-4; Bill Winkler, junior 6-3; Tom Winkler, sophomore, 6.