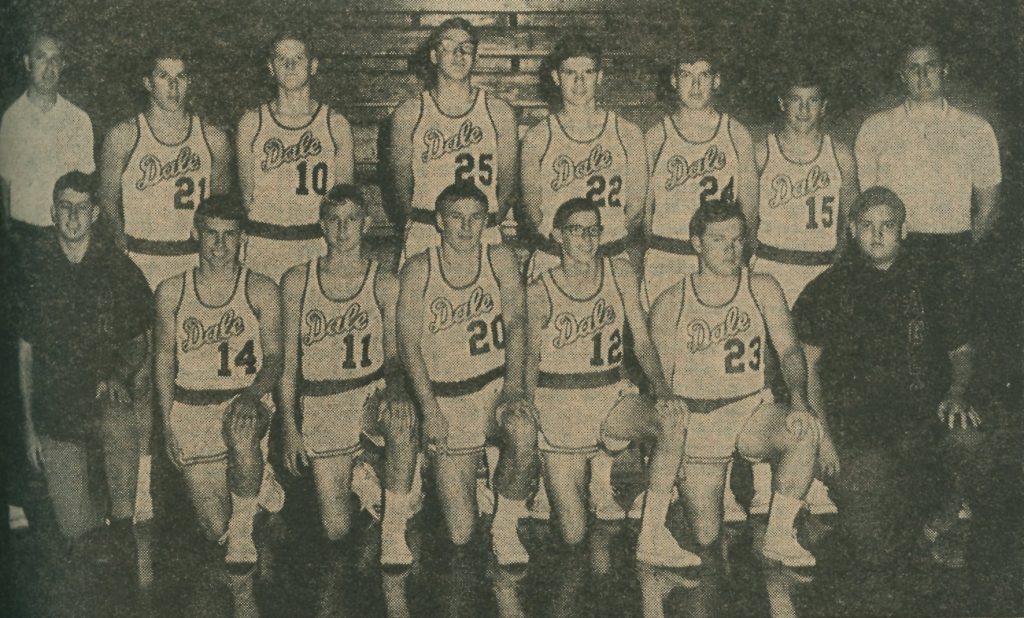 Gawood's Golden Aces of Dale will be faced with a pair of tough battles this weekend when they host the Ferdinand Crusaders tonight (Friday) and the Wood-Memorial Trojans of Oakland City come to fight on Saturday night. Saturday night's game will be an important PAC match.
Larry Klein's Ferdinand Crusaders will move in on Jim Cawood's Golden Aces, Friday night in what is expected to be another basketball classic.
Ferdinand brings to Dale a trio of starters from last season's varsity. Seniors, Paul Niehaus 6-3, Stan Ruhe 6-2 and Dennis Verkamp 6-0 are all returning this season. Added to the starting line-up will probably be juniors Ed Gudorf 6-0 and Tom Weyer 6-0. Also on the roster are Gary Oeding 6-1, Chet Schuler 6-0, Dan Schipp 5-11 1/2 and Rick Mullen 5-7 and all are juniors. One sophomore, Pat Lueken, 5-9 1/2 is listed with the varsity, but in the three games played, he was never seen action except on the reserve team.
Each season the Ferdiand fans feel "is the year" to dum the elusive Aces, but each year, the Dale Aces usually emerge with the big stick. Last season was an exception, but it took the Crusaders an overtime to finally capture a 64-60 win, which was their first since the days of Coach LaGrange and player-star Marty Niehaus back in 1959– and that game had broken a chain of 9 straight defeats from the Aces. To put it briefly, Dale has won 16 games, Ferdinand has won 2 in the series that started back in 1952.
Larry Klein's Crusaders are still smarting from the 60-55 drubbing handed them by the Holland Dutchmen last Friday night's engagement with a 2-1 record.
Game times are 6:30 and 8 p.m. CST Officials will be Emmert and Hubbard.
————
When Charlie Brauser's Trojans of Wood Memorial arrive, the Aces will be faced with a size differential. Topping the list is sophomore Roger Duncan at 6-4 1/2, and Terry Morgan a 6-2 senior who have been the top point-getters in their opener. Tim Andreanoplous a 6-2 senior, sophomore Grant Lamar 6-0, Rick Dixon at 5-8 and a senior and Alan Schoonover a 5-8 junior have been the scoring punch but only Morgan and Duncan scored in twin figures when they were stopped by Boonville in a double-overtime 62-60. David Campbell a 6-3 senior did not see action. Dale suffered a narrow 54-41 defeat from the Trojans last season.