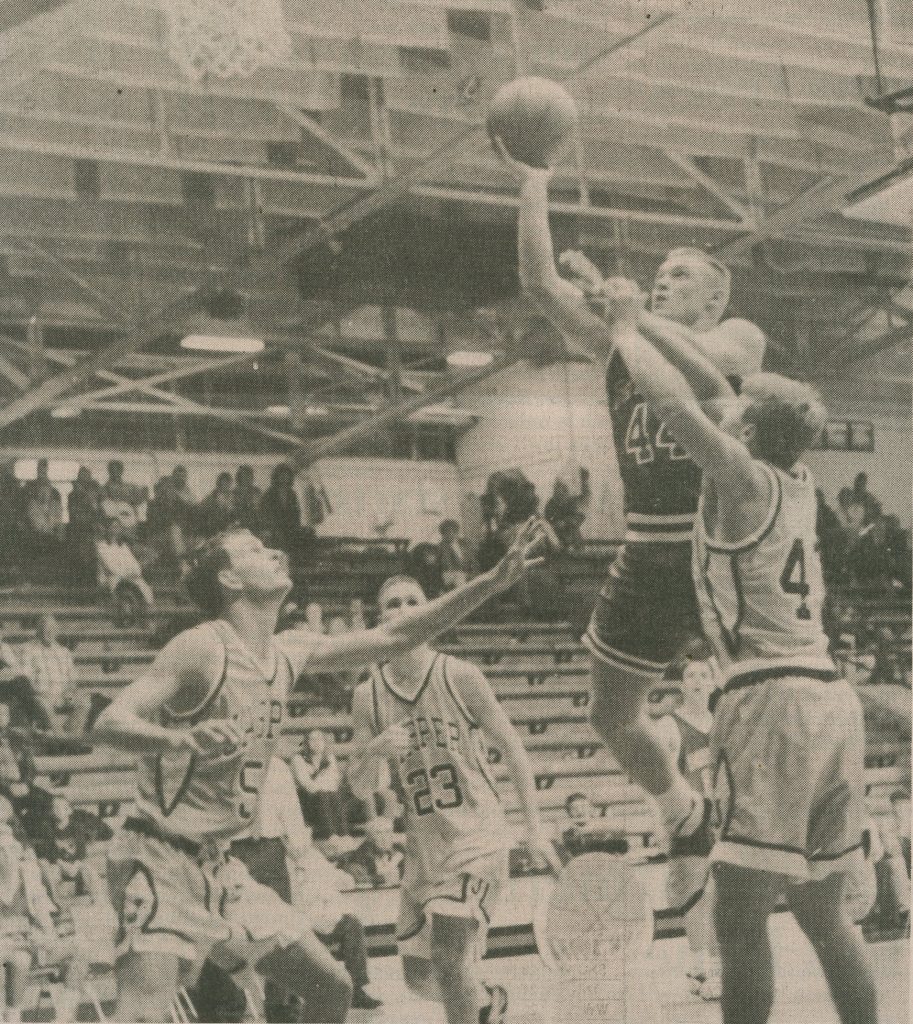 by Brian Bohne
Heritage Hills basketball coach Steve Merkel and his players probably had plenty of turkey and dressing and pumpkin pie this Thanksgiving. But when Saturday Night rolled around they still seemed to be hungry-hungry for tournament hardware.
The Patriots fulfilled their early season hunger with a 50-point trump over Jasper in the championship tilt of the Southridge Holiday Tourney.
"This has to really help our confidence. The kids are going to go into that dressing room thinking hey, we can play. We are a pretty good ball team. We're 2-0 and we won a torment, " commented Merkel moments after his team captured their first Holiday Tourney championship during his seven year term at the Patriot helm.
"You want a get used to winning tournaments. You learn how to win tournaments. That carries over, and now maybe we go down to sectional and think about this tournament win. It should help that I told them to be happy, but this is not the one we're after. I like gettin this one, but there's one we want worse than this. This is a good step down a long road."
The road to the championship was a bumpy one early on and the Patriots found themselves in early foul trouble and deadlocked at 9-9 with the Wild cats after one quarter. But then, senior guard Beau Pund stepped upend filled a few pot holes with his dead-eye three point shooting. Pund buried the Cats in the second stanza drilling three treys and a 16-foot damper. All told, Pund tallied 11 points int he quarter to help the Patriots grab a 26-18 advantage at the half. "I thought Beau just put the load on his shoulders in the first half when Tim (Denning) got in foul trouble," said Merkel. "And we'll pat him on the back for it, but that's something he's supposed to do. That's expected of Beau. He's a senior. He's a leader. He's supposed to step up and do the job he did tonight, and we're proud of him."
Merkel was also proud of his team's defensive effort as the Cats scored over 10 points in only one quarter, the fourth. Defensively, I really think we were able to do some things," commented the Patriot mentor. "We got help off perimeter people to get back. and help a little more and then recover out on the shooters. So, we were protecting the paint."
The wildcats didn't protect the paint quite as well. Offensively, the Patriots were effective down low as Josh Wetzel and Tim Denning exploited Jasper's match-up problems to take a 40-26 lead after thre quarters. The Wildcats carved the lead to eight in the fourth quarter, but back to the back baskets by Denning put an end to the rally.
"It was just a good overall team effort. Last year I thought we let the championship get away from us, and we talked about that before the game. we beat Jasper last year in the first game and I don't think we came ready to play in the championship. this year we came back ready to play. It's good to get this win."
Denning led a balanced Patriot attack with 14 points. Pund added 13 and Wetzel chipped in with 12. Doug Wigand paced Jasper with 12. Faruk Mujezinovic tossed in 10.
HERITAGE HILLS 55
SOUTHRIDGE 44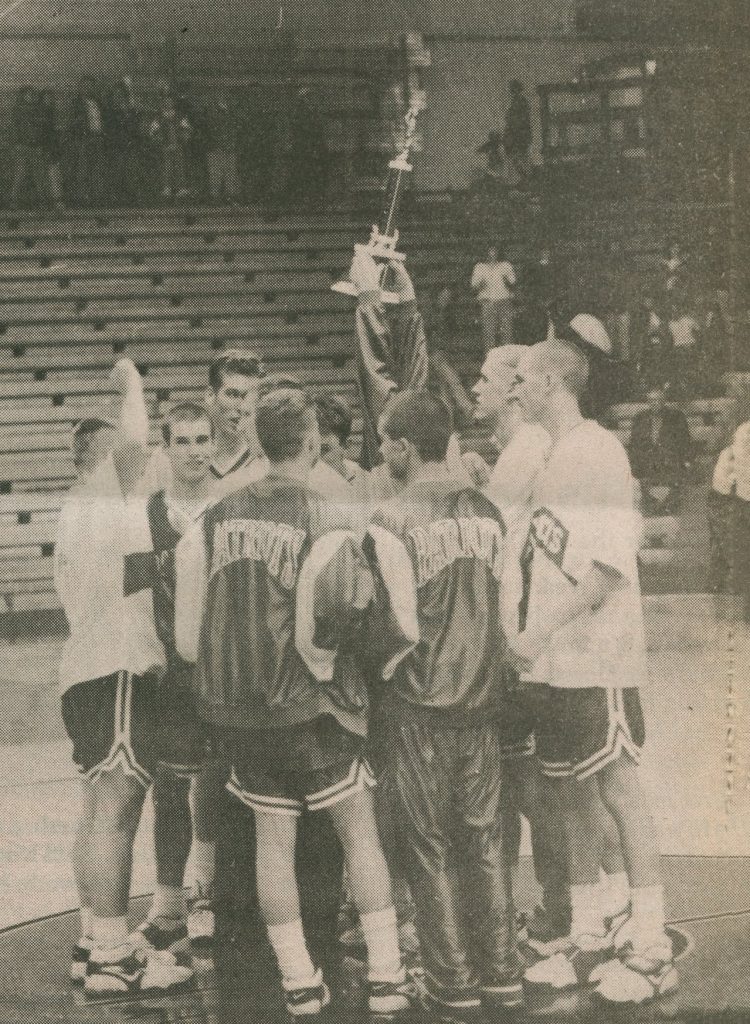 Despite having only part of his varsity squad ready for duty Friday night, Heritage Hills coach Steve Merkel said there would be no excuses if his team did not fare well against Southridge in the opening round of the Holiday Tourney.
No excuses necessary.
The Patriots on duty came ready to play and turned back the Raiders 55-44 in their season opener.
One thing Merkel wasn't expecting, however, was the presence of 6'6" Junior frontline Kris Hirt. Out all week with torn ligaments in his ankle, Hirt was expected to be out of action for several weeks. He played, and played well. "When Kris got hurt, he brought me a doctor's note that said he couldn't play for two or three weeks," commented Merkel. "Friday he came to me with a note that said he could play. I was glad to see him out there."
Hirt scored 15 points and pulled down a number of rebounds to help his team's cause.
The other thing that helped the Patriot Cause was a strong defensive effort that held Southridge just 29% shooting on the evening. "We felt going in, defense would be a big key," said Merkel. "We knew it would be important to do a good job on their preimiter people, especially Derek Prior, and I think we did."
Heritage Hills led 11-7 after one quarter and 24-19 at half-time. They broke the game open in the second half behind a balanced scoring attack and sticky defense. The Pats increased their halftime lead to double digits 36-26 after three quarters and cruised to the 11 point win.
Tim Denning led four players in double figures with 19 points, Hirt followed with 15. Josh Wetzel added 11 and Beau Pund tallied 10. Prior led Southridge with 14.
Jasper advanced to the championship game with a 59-50 win over the Northeast Dubois.
Southridge stopped the Jeeps 58-45 in the consolation game.
Heritage Hills will take their 2-0 record on the road Saturday night when they meet Princeton. Game is set for 6 p.m.