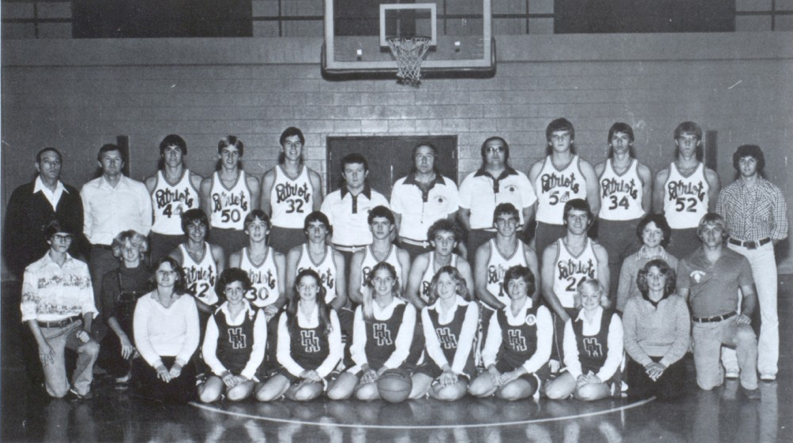 Heritage Hills Patriots will open their 1980-81 basketball campaign Saturday night when they travel to visit a conference foe, the Wood Memorial Trojans. The Trojans will already have one game under their belts against Princeton's Tigers.
Coach Dale Hein will come out with a string of expereinced Patriots who helped put together a successful 20-4 season, including their very first IHSAA sectional title. Lost through the graduation route are Brian Wahl, Rick Tullis, Doug Collins and Randy Neighbors. Wahl is now scorching the nets at Oakland City College and will undoubtedly be on hand Saturday night to watch his former mates in action.
Returning this season will be nine seniors, four juniors. Lettermen returning include 6-2 Bruce King, 6-0 Chris Sigler, 6-3 Msrk Duss, 5-11 Dough Teaford, and other seniors who saw limited varsity action such as 6-4 Chris Cannon, 6-5 Jeff Graman, 6-3 Mark Nighswonger, Dwane Detzer 6-0 and Jed Smith 5-10. Junior coming up are 5-11 Tom Collins, 6-2 Steve Gundhoefer, 5-11 Ken Seifert and 5-11 Gary Shourds,
Wood Memorial will also sport a string of nine seniors, one junior and a pair of sophomores on this year's roster. Danny Buck and Darrin Nossett are the only two that have graduated.
Two seniors, Todd Tooley at 6-7 1/2 and John Plassmeyer at 6-4 give them good size under the basket, along with 6-1 Sam Lamar, who will probably make up the front line. Probable starters at guard are senior Scott Watson 6-1, and sophomore, 5-10 Billy Bigham. Two more 6-2 seniors on the roster are David Pond and Joe Dyson, plus seniors, Kenny Bessing 5-10 1/2 and Paul Leffler 5-7. Mike Whitte is a 6-0 junior and Pat Duncan, a 6-2 Sophomore. The Trojans are also sporting a new Head coach, Roger Benson, who took over from veteran coach, Charlie Brauser.
Last season the Pats met almost no resistance when they met with Wood Memorial, coasting to an 80-32 victory behind the 25 point effort of Brian Wahl and 15 more by Chris Sigler. Eleven players got into that action, and ten of them scored. The JV team also had an easy time of it, taking a 52-25 win.