(Yes, the headline used tonite instead of tonight)
Jime Lifke will be supporting one of the taller teams in the area this year and will test his Patriots, Friday night when Heritage Hills visits Castle.
Leading int the size department are two sophomores, Dan Schum and Charlie Rice, both 6-0. Charlie Arnold, a 6-3 junior is next in line. Other juniors on the varsity squad are 6-2 Dan Jochim, 6-2 Randy Sergesketter, 6-1 Bruce Rosbottom, Tim Nord and Allen Pund each 5-11.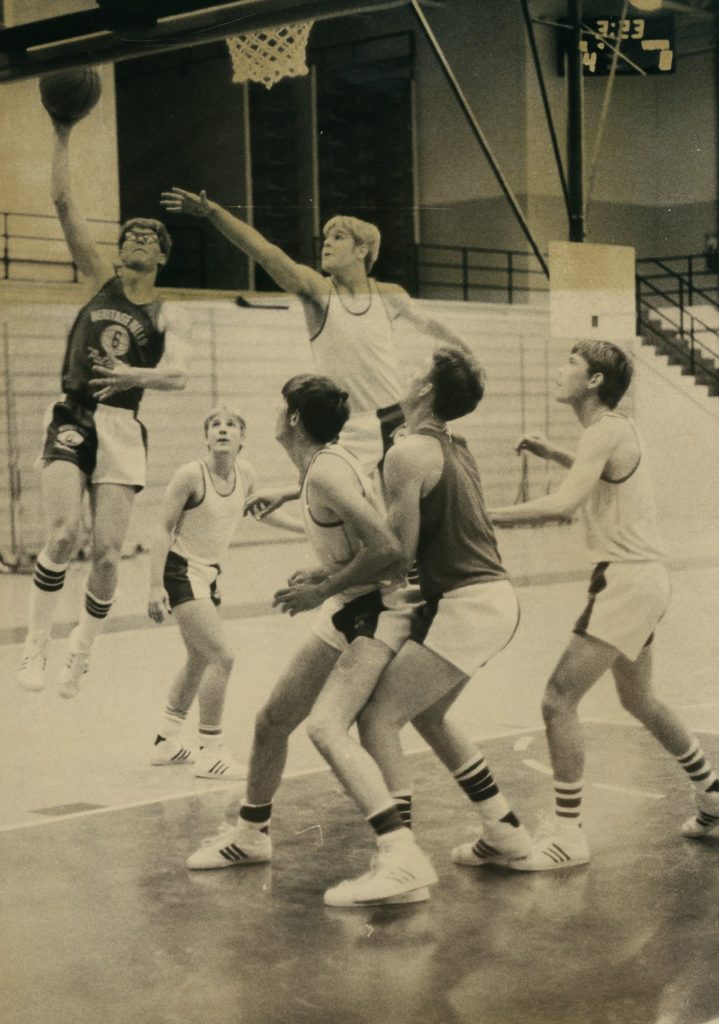 Just two seniors grace the Pats roster: Stan Neighbors at 6-2 and Dan Flamion at 5-9. Another sophomore at 6-4 is Jeff Wilmes who is listed on the junior varsity squad.
This is Coach Lifke's second year at the helm of the Patriots and should have all the wrinkles ironed out. He spent last season making adjustments and getting acquainted with the ability available and finished with a 7-14 record.
Chief point-getter last season were Darrel Green and Dave Detzer, both graduated. Stan Neighbors did not get into the varsity lineup until the sixth game, but finished the season with 115 points to his credit. Charlie Rice was in every game but one, but traded off with Neighbors for the center slot and totaled only 103 points. Flamion. Sergesketter, Pund and Nord all saw very limited action last season.
After the Friday night battle, the Pats will head into back-to-back games the following weekend when they host the Forest Park Rangers on Friday and the Wood Memorial Trojans on Saturday.