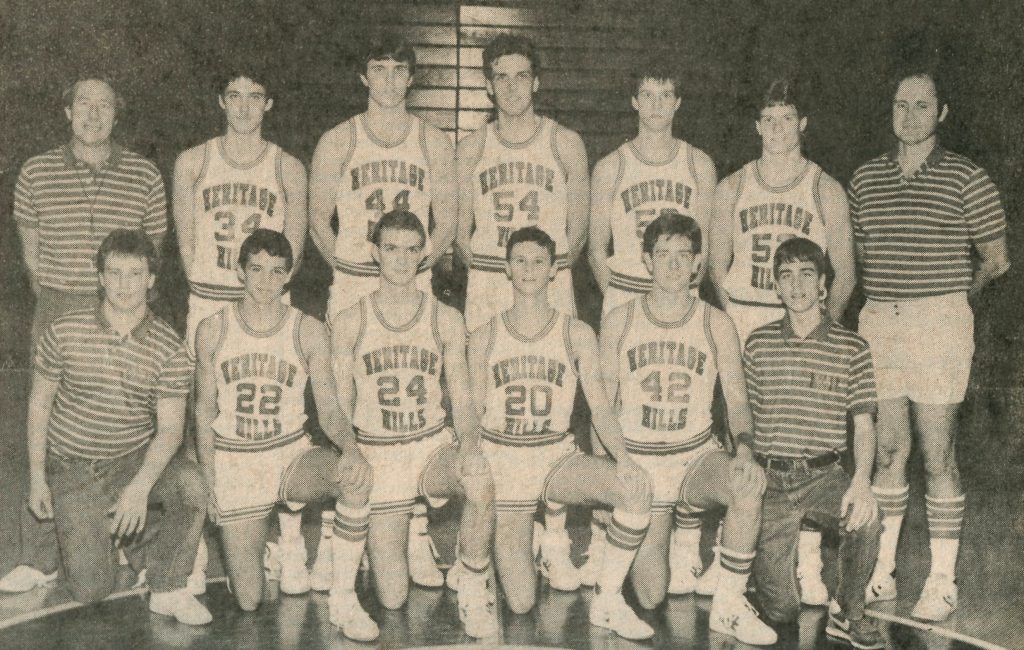 Heritage Hills Patriots will go south tonight to clash with county and conference rivals of South Spencer. The Pats are defending a 17-7 record including the Southridge holiday tourney title and Boonville sectional crown. They Rebels are seeking to improve a 10-11 record.
Coach Dale Hein will be putting six seniors, three juniors and a sophomore into varsity action, and they are a very impressive bunch of Patriots indeed! Headed by 4-year veteran John Becher4 at 6-6, 3 year veteran Ron Painter at 6-7, Matt Hallman at 6-4, Neal Daunhauer 6-2 and Scott Litkenhus 6-2, and all seniors; Mike Crews 6-0, Mark Bates 6-1 and Darren Lynam 6-0 are the juniors and David Litkenhus a 6-2 sophomore.
Last season's version of the Pats has several cliff-hangers. They knocked off Bosse in an overtime, won the Southridge tourney in two overtimes against Southridge and Forest Park. They hammered Evansville Day, Boonville and Cannelton to with the Boonville sectional and then Bosse gained revenge by taking them out of the Evansville regional with an impressive 60-48 win.
South Spencer has not defeated the Patriots since th4e 1981 sectional when they took a very low scoring 39-37 win. Last year they went down 60-42. Lost through graduation are there two top performers, Chris Allen and Brad Rust. Also gone is Bill Lindsey.
Returning will be their 6-3 senior Jason Shourds, 6-3 senior David Schraner, 6-5 junior Tracy Clark and 6-3 senior Bobby Richards. David Williams at 5-10 1/2, Scott Wandel 6-2. Sean Ferguson 6-3, are all seniors, and coach Jed Beadles will have one year as head the Rebels already in back off him.