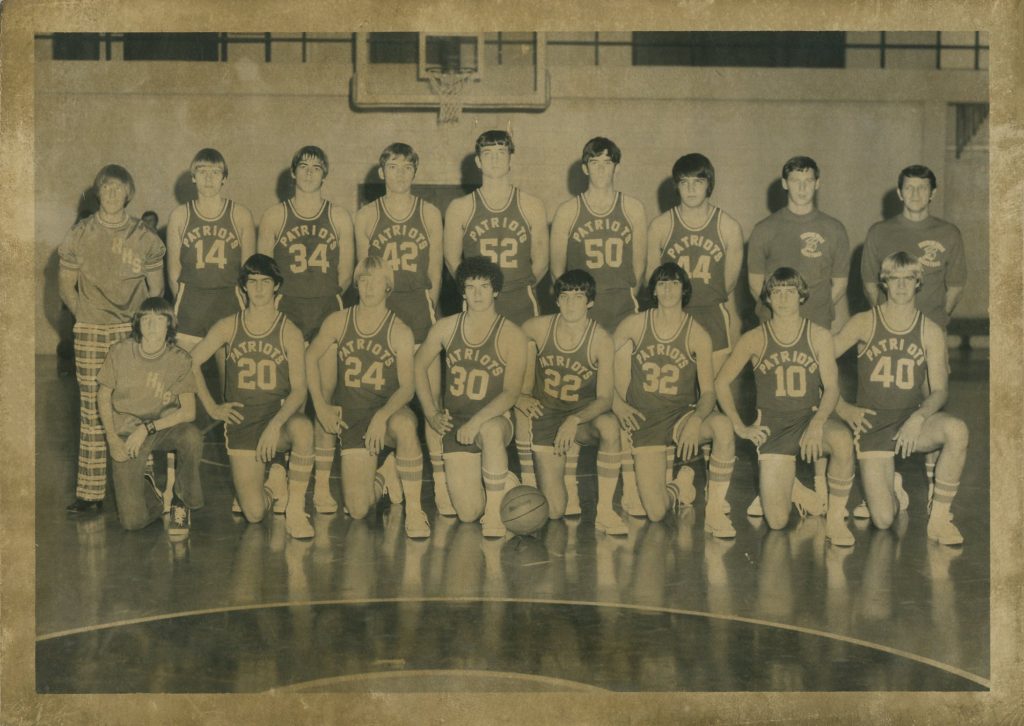 Heritage Hills Patriots will open their 1975-76 basketball campaign this weekend when they take on Forest Park tonight in the spacious Huntingburg gym and travel to Wood Memorial tomorrow night.
If anyone has a right to smile, it would be Coach Burke Scott, head of the Pats, he has more "tall timber" than the law allows! Headed by big 6-6 Charlie Rice, a junior, the Patriots have 6-5 Dan Schum and 6-4 Jeff Wilmes, both juniors; seniors Charles Arnold at 6-4 and Dan Jochim at 6-3. At guard will be last season's top point-getter Alan Pund 5-11.
Also on the roster are juniors Brett Ayer, Roger Graman and Dan Neighbors at 6-2; Don Detzer at 6-0; Greg Hagedorn and Terry Hufnagel at 5-11 and Ronnie Pund 5-9.
Last season, Alan Pund finished the year with 403 points, Charlie Rice 273. Against the Rangers, Pund scored 16, Arnold 5, Jochem 8 and Dan Schum 0. They lost the game 64-52. They have just three seniors on their squad. Lost through graduation are Dan Flamion, Stan Neighbors, Tim Nord, Bruce Rosbottom, and Randy Sergesketter. This year, the Patriots are being eyed as a leading contender for the PAC basketball crown, along with another tall and talented quintette from Southridge High School.
Forest Park Rangers opened their campaign with an impressive win over Leavenworth, but were thumped hard by the Dubois Jeeps last Saturday night. They will eyeing the Patriots with the idea of getting back on the win side of their young schedule. In last season's battle, Niehaus scored 11 against the Pats and Mehling 6 in their 64-52 Ranger victory.
While the Pats are battling the Rangers, Wood Memorial will be fighting Princeton. Saturday night they will fight each other at Wood Memorial in Oakland City.
The Trojans opened their season hosting Boonville and Suffered a heavy 70-43 loss from the Pioneers. Veteran Coach Charlie Brauser had all of his size on the floor against Boonvile and still could not contain them. 6-4 junior Kevin Falls, 6-3 junior Rick VanMeter and 6-2 senior guard, but it was their 5-7 senior guard Jeff Edrington who worked best with VanMeter to carry the scoring punch. Rick scored 13 and Jeff 10. Greg Nixon 5-9 1/2 junior picked up 9 points on the way. Falls accounted for 5 and Baker 4.
Last year, they Trojans downed Heritage Hills 65-55, but it was Duncan, Deputy, Schoonover and Warnsman who provided the scoring punch. They have all graduated, while the Pats retained most of their varsity.