The South Spencer Marching Rebels advance to ISSMA Regionals
by Casey Uebelhor
Stalwartly uniformed in blue and black, the Marching Rebels lie in circular position. Drumsticks begin to click and clack in a compelling rhythm that is difficult to grasp. The color guard moves instantly, compactly, and drum major Mason Gross descends from his post, takes up his mellophone, and offers the audience a bit of melody, inviting them into the jazzy complexity of what's to come…
On October 12, the South Spencer Marching Rebels competed in ISSMA's Open Class D Invitational, held at Jasper's Brewer Stadium, where they received a Gold rating, qualifying them for Regional competition this Saturday. Their show, "The First Circle," is based on a feature track from the 1984 contemporary jazz album, First Circle, by the Pat Metheny Group. The album won a Grammy for Best Jazz Fusion Performance. (For those unfamiliar with jazz, Metheny is a virtuoso electric guitarist — a jazz revolutionary — and is the only artist to have won a Grammy in ten different categories.)
The Rebel's music is complex, invigorating, and difficult with alternating time signatures of five and six beats. "They grabbed on to this concept," boasts Director Jacob Tabor of his students, who blocked the totality of their field work this summer at band camp. On Parent Preview Night, in late July, the Rebels were proud to show off their entire performance.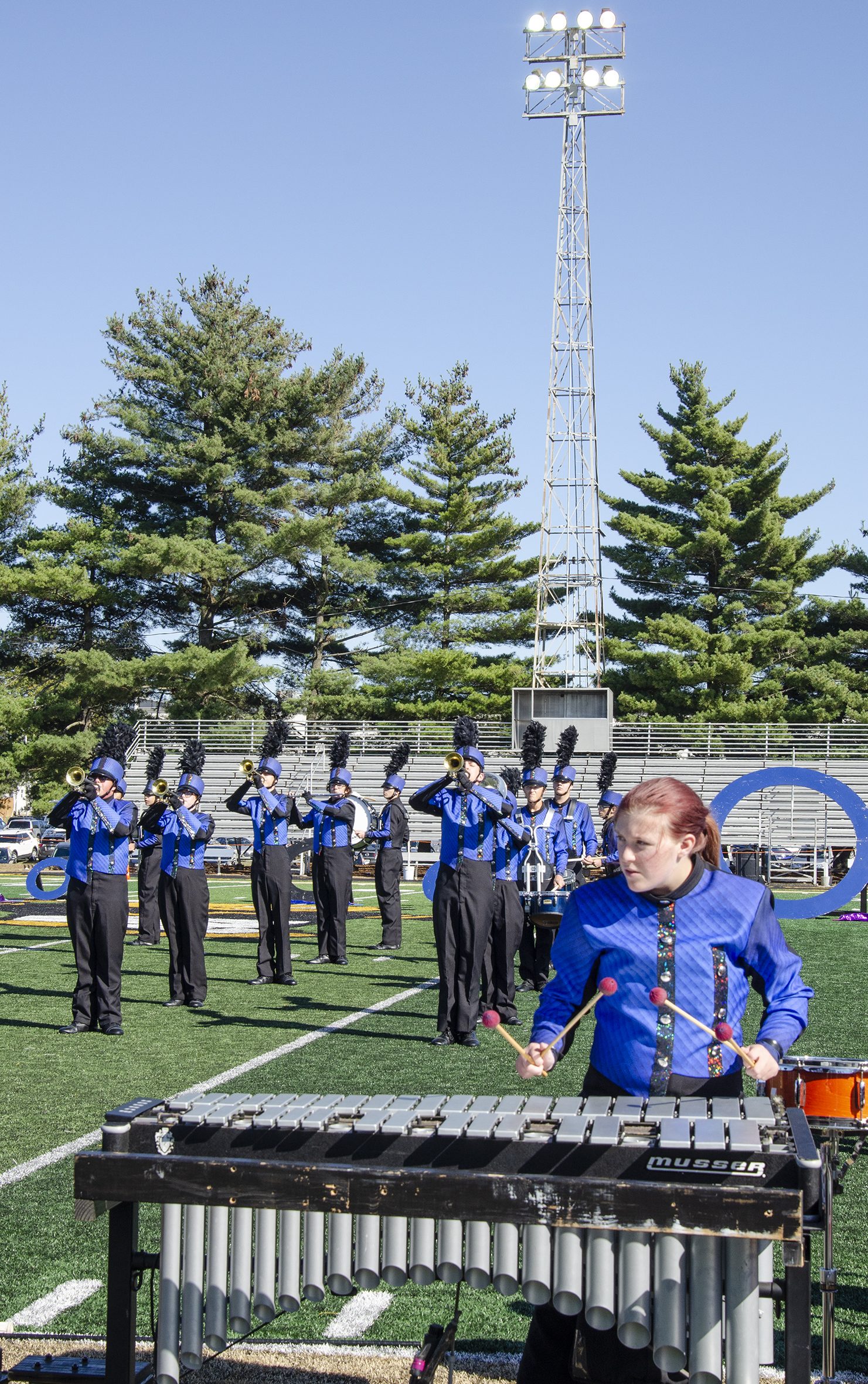 The marching is sharp, the music is profound, and the show has caught the eye of judges and fans alike. Blue and black circles decorate the field; the color guard wears a funky uniform variation; and against this backdrop, flags of shimmering pink and purple, as well as circular props and exciting rifle routines make quite a statement. The guard's work has paid off, earning them two Best Color Guard awards this season. Students have also been thrilled to receive two Best Percussion honors — and they deserve it. The Rebel's percussion routine is diverse and impressively physical.
Solo performances and section features abound, including trio and quartet ensembles, which means the Rebels are definitely putting their musical talents on display. Those talents come to a jazzy frenzy, which is echoed in fast-paced marching, at the show's end. All seems clarified when the band organizes into a company front, reforms, and ends with a kinetic burst as a solid unit.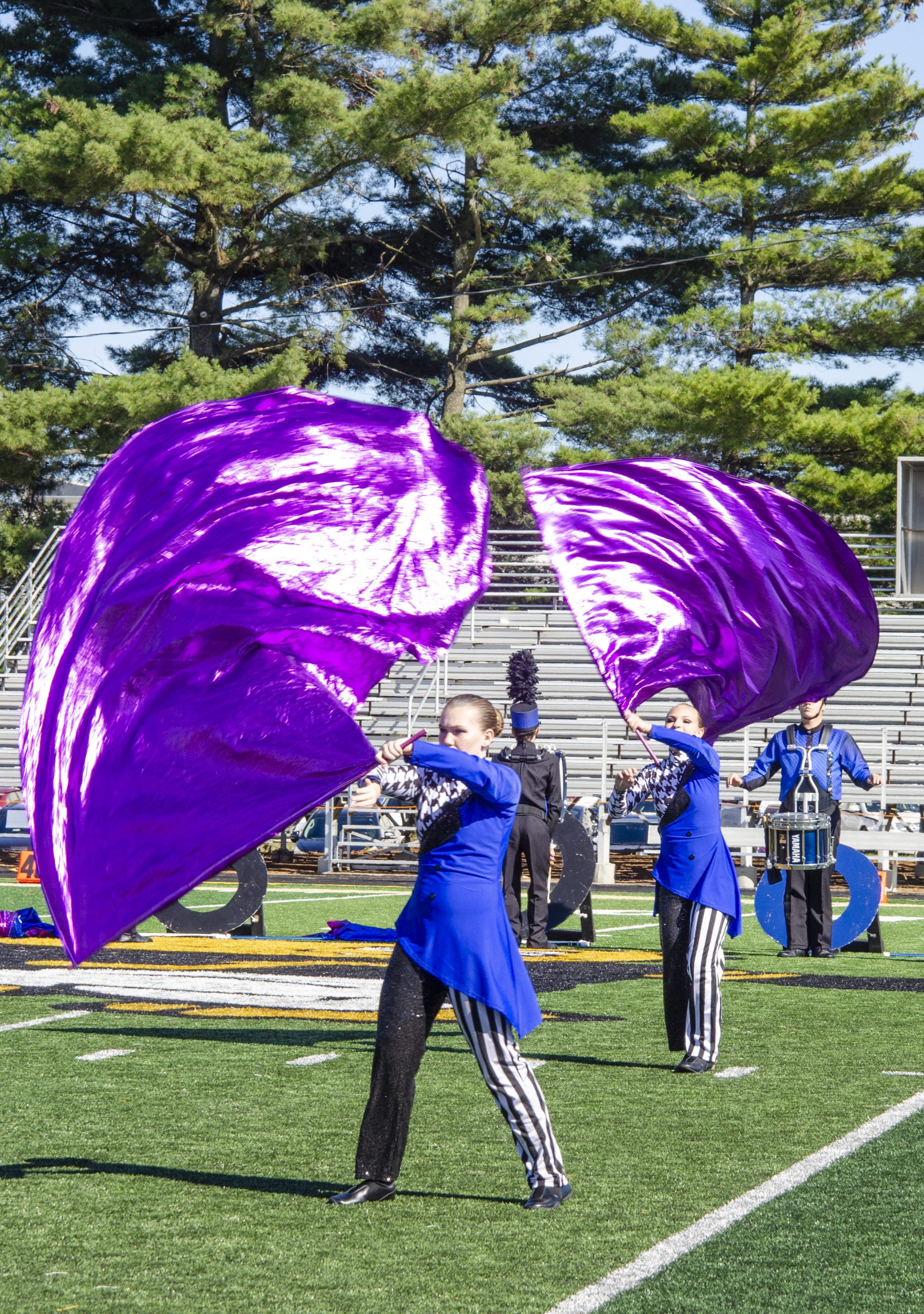 "There have definitely been some curve balls thrown at us this season," says Tabor, "but we are swinging at them anyway."
Last year, after State Finals, Tabor received a call from retired visual designer, Robin Shaw. "He had seen our show at Finals and wanted to work with us," tells Tabor. "Robin lived in Indianapolis and drove the three hour drive at least once a week to work with our students. He saw a group of students with potential and made sure they knew he believed in them"
On September 10, Shaw, on his way to rehearse with the Rebels, lost his life in a traffic accident.
"Robin had an enormous influence on all of the students," says Tabor. "We are honored to have known him and called him a friend. The students wear ribbons honoring him underneath their uniforms at every performance. We have dedicated the season and all the performances to him."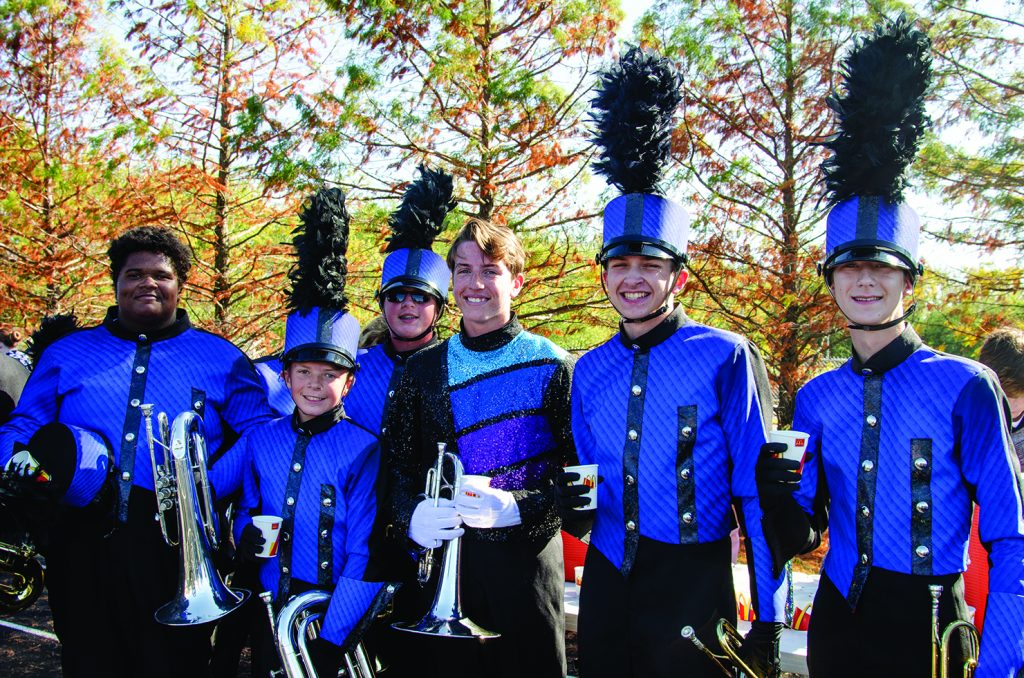 The South Spencer Marching Rebels take the field at ISSMA Regionals, Evansville Central High School, this Saturday, October 19, at noon. Open Class D awards are scheduled for 2:30 p.m. Should the Rebels place, they will advance to Semi-State. From there the goal is ISSMA State Finals, November 9, at Lucas Oil Stadium, Indianapolis.
Tabor says, "We're working hard, working efficiently, and having some fun along the way!" To the Marching Rebels from all the Leader staff, Good Luck, Keep Calm, and Circle On!